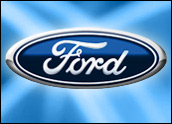 Ford got into the act at the 2009 Consumer Electronics Show held in Las Vegas with the debut of the next-generation of Sync, its voice-activated, in-car technology.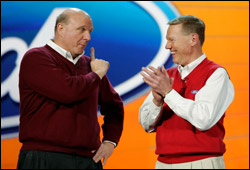 Alan Mulally, chief executive officer at Ford, presented new features for the current version of Sync and described upcoming changes set to roll out by 2010. Microsoft CEO Steve Ballmer joined Mulally on stage during the presentation.
Developed in partnership with Microsoft, Sync launched just 18 months ago, and Ford expects the technology to be on the move in 1 million automobiles by the third quarter of 2009.
Sync enables Ford car owners to play music from a portable music player and make phone calls hands-free using a Bluetooth-enabled phone. It is the industry's first system that seamlessly integrates a variety of technologies to provide emergency, diagnostic and information services, as well as traffic reports and directions on the road.
Automotive Advancement
The integrated technologies include an on-board text-to-speech engine, a customer's own mobile phone and the network it runs on, data-over-voice technology, an off-board routing engine and voice portal, text messaging, an existing mobile application, and the power of the Internet, Ford said.
"It's been incredibly popular for Ford, and one of the things that has differentiated it, and it's been phenomenal," Rob Enderle, principal analyst at the Enderle Group, told TechNewsWorld.
Gadget Mobile
During his presentation, Mulally introduced exclusive new real-time information features for Sync that will be available in Sync-equipped cars from Ford, Lincoln and Mercury. The next-generation system, Sync with Traffic, Directions and Information, adds integrated GPS technology and other data using a car owner's Bluetooth-capable mobile phone.
Set to launch this spring, the new addition will provide drivers with hands-free access to personalized traffic reports, turn-by-turn driving directions, and up-to-date information such as business listings, news, sports and weather, according to Ford.
The new offerings will be available on nearly all 2010 vehicles at no additional charge. Ford is providing the service for free for three years with the purchase of a new vehicle. The carmaker also plans to launch Sync overseas in 2010 — initially in Europe, with Asia-Pacific and Australia to follow.
Ford is also working to redefine how customers react and interact with a vehicle's controls and displays, including making voice recognition more natural and conversational.
Ford's Human Machine Interface (HMI) strategy includes SmartGauge with EcoGuide, which launches on the new 2010 Ford Fusion and Mercury Milan Hybrids this spring. It is a new instrument cluster that provides real-time information and "coaches" drivers on how to achieve maximum fuel efficiency in their hybrids.
Using configurable controls and the use of an electronic personal assistant, or avatar, named "EVA," HMI is part of the next evolution of Sync, the company said.
Getting More From Your Device
"What Sync showcased is that people want to use their personal technology in their car. Ford has done that, making it particularly easy with any device. A lot of people have different things they use, and the iPod interfaces built into some automakers' cars kind of suck," commented Enderle.
"What Ford has done with Sync," he continued, "is that it feels like it's built-in, and people like that because they want something that is easy."