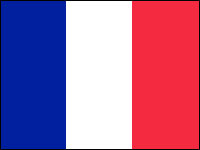 The French government is considering a ban on GPS-enabled apps that allow would-be passengers to track down nearby drivers.
The issue is being fueled by irked taxi unions that increasingly are frustrated with — and helpless against — ride-sharing apps. Thus has the government drafted recommendations that include banning services that display maps showing available cars. (The recommendations, it should be noted, would allow taxi drivers to use the precise type of apps that would be off limits for private companies.)
The recommendations are not yet law.
"This is a big problem for us," said a regional manager for car-sharing titan Uber, which already has had to deal with Parisian cabbies attacking its vehicles.
The potential ban of map-enabled car-sharing apps is but France's latest effort to slow technology's march. The country also has either considered (or passed) legislation designed to save newspapers by preventing Google News from using snippets of articles from French media; save the arts by imposing a special tax on electronic devices to fund cultural endeavors; and save bookstores by prohibiting Amazon from offering dirt-cheap books and delivery.
Last year, the government adopted a mandatory 15-minute waiting period for private hire vehicles; the Supreme Court recently overturned that edict.
[Source: BBC]
Putin Spouts Off About CIA, Yandex
Russia's President Vladimir Putin dubbed the Internet a "CIA project" and made comments about Russian search giant Yandex that caused the company's stock to tumble.
After opining that the Web was an extension of the CIA, Putin said that Russia had to fight to protect its interests online. He followed that up by chiding Yandex for registering in the Netherlands. Putin's digs were enough to sink Yandex's stock 5 percent.
It's been a wild week for the Web in Russia. Pavel Durov, who founded Russia's most popular social networking site, VKontakte, claims he was ousted by allies of Putin. Meanwhile, the Russian parliament passed a law requiring social media sites to keep servers in Russia, and to store all info about users for at least six months.
[Source: The Associated Press]
China's Crackdown on Porn Complicates Biz for Sina.com
Beijing's crackdown on "lewd and pornographic" material is proving a headache for Internet titan Sina.com, which authorities accused of hosting inappropriate articles and videos, resulting in the company losing its online publication and video licenses.
Nearly two dozen articles and four videos on Sina were deemed to run afoul of regulations, according to the National Office Against Pornographic and Illegal Publications. Some of the articles reportedly had been clicked millions of times, "imperiling social morals and seriously harming minors' physical and mental health."
Several people reportedly were arrested for Sina's transgressions.
Sina apologized in a letter.
The crackdown is part of Beijing's "Cleaning the Web 2014" campaign, which has, according to state media, resulted in the shutdown of more than 100 websites and the deletion of thousands of online social networking and online forum accounts.
[Source: Xinhua, the Los Angeles Times]
Obama Plays Soccer With Japanese Robot
President Obama kicked around a soccer ball with a Japanese robot, leaving the president both impressed and a little freaked out.
Obama was visiting Japan's National Museum of Emerging Science and Innovation when a humanoid robot named "ASIMO" approached the prez. "It's nice to meet you," the bot said. It then mosied over to a nearby soccer ball and kicked it to Obama.
"I have to say that the robots were a little scary — they were too lifelike," Obama later said. "They were amazing."
[Source: The Washington Post]