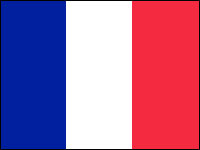 France has abandoned a law that called for copyright infringers' Internet connections to be cut off upon a third offense.
The law stipulated that letters be sent the first and second time people illicitly downloaded copyrighted material; the third time around, an offender's Web access would be disconnected.
The change of heart reflects a shift in focus from those downloading copyrighted materials to the websites facilitating the transfer, according to a French spokesperson.
This isn't to say, however, that France will become a piracy haven: In lieu of having their Internet shut off, infringers could face a fine of nearly US$2,000, Torrent Freak reports.
France has been in the news quite a bit the past year for its handling of the digital revolution. Last fall, the country was floating legislation that would force Google to pay for displaying snippets of news articles that came from French outlets.
In May, there were discussions about a tablet-, smartphone- and laptop-specific tax, as such devices "contribute nothing to the financing of the works that circulate," and in June France sought a ban on Amazon's free book shipping in an effort to help booksellers.
[Source: The Next Web]
Iran Launches Its Own Email
Iran has launched an intranational email service.
Opponents will paint the move as a way to monitor citizens — all citizens will be assigned a national email address and will reportedly have to provide their local post office with name, ID number and postcode — while proponents, including Mohammad Hasan Nami, the Iranian minister for information and communication technology, say it is a way to promote interaction between government and laypeople.
The service, which is not free, is compatible with Farsi, English, French and Arabic, and offers 50 MB of space. For comparison, that is 1/307 of the free space available on Gmail, which is popular in Iran. Users can, however, upgrade to 2 GB.
However, some doubt the email plan will be executed across the entire country. Newly elected president Hassan Rouhani, who will take office in August, is believed to be more sympathetic to Web censorship than past leaders.
Iran has been on a kick to promote its own Internet products, such as "Islamic Google Earth,"an alternative to what it considers lie-littered Google mapping products.
An estimated 40 percent of Iran's population of 75 million has Internet access.
[Source: The Guardian]
US and China Kick Off Strategic and Economic Dialogue
The fifth China-U.S. Strategic and Economic Dialogue kicked off Wednesday in Washington, with a focus on political, security and economic topics.
First established in 2009 by President Obama and Chinese President Hu, the two-day event represents the highest-level bilateral forum for discussing a broad range of issues between the two nations. Among those scheduled to participate in the event are U.S. Treasury Secretary Jacob J. Lew and Secretary of State John F. Kerry along with Chinese co-chairs, Vice Premier Wang Yang and State Councilor Yang Jiechi.
Ahead of the event, however, the U.S. and China reportedly continued their ongoing strategic talks on cybersecurity. President Obama and Chinese president Xi talked extensively about cybersecurity at a California summit last month.
The advance talks this time, held on Monday and Tuesday, were "candid" and "in-depth," according to Chinese media outlet Xinhua, which was the first to report the discussions. The two sides talked about measures to boost cooperation and international cyberspace rules, among other topics.
Both China and the U.S. expressed a "willingness to improve the mechanism of the cyber working group," according to Xinhua, which would theoretically prevent what appears to be gratuitous cyberespionage carried out by both sides against one another.
Despite ongoing tensions between the U.S. and China — including China needling the U.S. over its holier-than-thou cybersecurity rhetoric as well as the U.S. questioning a possible Edward Snowden/China collaboration — Xinhua painted the dialogue with rosy strokes. Talks focused on implementing the consensus reached by Xi and Obama, and on "building a new type of major-country relationship based on mutual respect and win-win cooperation," the outlet said.
[Source: Xinhua]