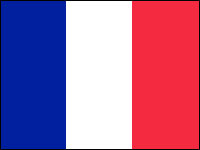 In France, data protection officials announced that they will impose sanctions against Google for the company's failure to stick to a three-month deadline to tweak its privacy policies.
The fine stems from Google's melding of different privacy policies in Europe into a single policy that applies to all its platforms — Gmail, YouTube, Google+ and so on. The move unfairly subjected people to data collection, France said in June, warning that unless it made some changes, Google would be fined.
The size of the fine, though, would likely be negligible. France's main privacy body said in June that the max fine against Google could reach all of US$200,000.
Germany fined Google roughly $200,000 earlier this year for data collection that took place while the company compiled images for Street View. At the time, German officials said they would have sought a bigger fine, save a European Union regulation that capped fines for accidental data collection.
France has had many grievances with Google — Google News displaying content from French news sites, for example, or Google' propensity to skirt taxes.
[Source: The Washington Post]
China Offers Plan for Video Game Consoles
In a reversal of a reversal, China outlined a plan that would end the nation's longstanding ban on the sale of video game consoles in the country.
The plan calls for allowing foreign companies to offer certain Internet services in the Middle Kingdom on the condition that the companies set up shop in the new Shanghai Free Trade Zone. A statement from the State Council was pretty vague about what, exactly, foreign companies would be allowed to do in the free-trade zone, but the video game console ban is apparently part of the deal: The document specifically mentions "game machines sales and services."
In January, news broke that Beijing was planning to lift its decade-old ban on video game consoles. That story was quickly debunked by Chinese regulators, who within days made it clear that the ban was still in effect.
Now, it looks like it's game on.
There has been quite a bit of confusion and misinformation about what will fly in the free-trade zone in Shanghai. Last week, China reportedly unbanned Facebook, Twitter and The New York Times website in the free-trade zone. That story, however, was quickly shot down.
Microsoft recently announced a partnership with Chinese Internet television company BesTV New Media. The Seattle Times was among those to speculate that the partnership could perhaps be a way for Microsoft to sell the Xbox in China.
[Source: The Wall Street Journal]
Siemens to Nix 15,000 Jobs
Germany's Siemens announced it will cut 15,000 jobs — including 5,000 in Germany — over the next 12 months as part of a US$8 billion-plus cost-cutting scheme.
Siemens, Europe's biggest engineering firm, is reportedly trying to keep pace with more profitable rivals like GE and Switzerland's ABB.
Siemens makes a variety of products ranging from hearing aids to gas turbines.
The company has not yet laid off any workers and hopes to rely heavily on attrition and severance deals.
[Source: Reuters]
Canadian Collects Bizarre Google Street View Shots
Candian filmmaker and artist Jon Rafman has compiled some of the more unusual images that Google Street View has to offer.
Operating under the belief that Google's Street View camera "almost symbolizes a modern god," Rafman has spent hours upon hours scouring for interesting nuggets buried on Street View.
His website does indeed have some crazy photos, including car accidents, people arrested, animals and more.
[Source: 9-eyes.com via CNET]