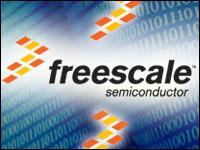 Even as the rumors continue to fly about a tablet computer forthcoming from Apple, Freescale Semiconductor on Monday unveiled its own reference design for a smartbook that will be priced at less than US$200.
Whereas Apple's rumored product — currently expected to be called the "iSlate" — is said to feature a 10-inch screen, Freescale's design includes a 7-inch touchscreen with up to four times the viewing area of a typical smartphone.
Measuring 200mm by 128mm by 14.9cm and weighing 376 grams, its form factor is about one-third the size and volume of a typical netbook, Freescale said. As a result, neither a fan or heat sink is required.
Based on Freescale's i.MX515 processor incorporating ARM Cortex-A8 technology, the device is designed to provide instant-on functionality, persistent connectivity and all-day battery life. Ultimately, it's intended to enable a second generation of smartbook products with prices less than $200 and form factors that fully leverage ARM processor technology, the company said.
Summertime Debut
"Freescale's new tablet opens the door to an exciting new world of compelling form factors specifically designed and optimized to support common online activities including social media, high-quality audio/video playback and light gaming," said Henri Richard, the company's senior vice president of sales and marketing.
"We believe the tablet will emerge as a popular form factor for the next generation of smartbooks," he added. "By introducing this prototype reference design, Freescale intends to play a vital role in propelling the mainstream adoption of smartbooks."
The tablet will be demonstrated at the 2010 Consumer Electronics Show running both the Android and Linux operating systems. Products based on the design could hit retail shelves as soon as this summer, Freescale said.
3-D Desktop Framework
The new design is the first platform in Freescale's Smart Application Blueprint for Rapid Engineering (SABRE) series. The SABRE tablet platform for smartbooks incorporates feedback from a recently completed end-user research study conducted in conjunction with the Savannah College of Art and Design's industrial design program.
Also included in the new design are Freescale's MC13892 power management interface component, SGTL5000 audio codec and MMA8450Q 3-axis accelerometer.
WiFi and Bluetooth wireless connectivity are featured, as well as a 3-D desktop framework with touchscreen/QWERTY keyboard support; a 3G modem and RF4CE protocol options are available.
Modular Approach to 3G Connectivity
The tablet's modular approach to 3G connectivity lets systems designers select carrier-specific air interfaces appropriate for different regions, Freescale said. Modules can be precertified by carriers and selected to match a range of features and performance targets, making it easy to migrate quickly to new modem technologies as they're introduced.
Among the device's other features will be 512 MB of DDR2 memory, 4-64 GB internal storage, a removable micro SD, a 3-Mpixel camera and video recording capabilities.
Applications intended to run on the tablet include a Web browser with Adobe Flash Player and multimedia plug-ins, a media center, PDF and image viewers, a mail client, an RSS reader, an office suite, handwriting utilities and various widgets for Twitter, Facebook, Flickr, Weather SMS and other applications.
An Unfilled Niche
The Freescale tablet is an example of a "crossover device" that combines the computing capabilities of the netbook with the capabilities of the smartphone, said James Brehm, senior consultant for mobility and the unwired experience with Frost & Sullivan's information and communication technology practice.
"We're going to see a lot of offerings similar to this," Brehm told TechNewsWorld.
Qualcomm, in fact, already launched its own reference design about a year ago, he noted.
"There is a niche that is not being filled now between the PC and the smartphone," Brehm explained. "It's very difficult right now to read massive amounts of text on a screen like that of the iPhone or BlackBerry," he noted. "Having these crossover devices could help."
'A Smart Mover'
As for Apple's offering, "nobody knows yet what the Apple device actually looks like," Brehm pointed out.
The company doesn't tend to be a first mover, Brehm said. Instead, "they're what I call a 'smart mover,'" he explained — often taking a category to the next level.
Apple is also never the cheapest, he added.
"One of the things Steve Jobs does better is execution," observed Brehm. "I think they will have a very elegant device, purpose-built, and probably more expensive. They're never the cheapest, they're never the first, but they always seem to be some of the best."
'One of the Big Events of the Decade'
Tablet devices will be among the "hottest" going into this coming year, Rob Enderle, president and principal analyst with the Enderle Group, told TechNewsWorld.
Each of the ARM vendors is looking at this class, in fact, reflecting a competition with Intel that could end up being "one of the big events of this coming decade," he predicted.
"It's all about coming up with products that are attractive but break critical price lines," Enderle asserted.
A Critical Price Point
The $200 price point is a particularly important one, added Enderle. "At that point, I don't have to ask my spouse — it's no longer a family decision and can be purchased by an individual."
The result tends to be relatively high sales, he said.
Apple's larger and likely much more expensive offering, on the other hand, will present the company with an interesting challenge, Enderle suggested.
Unlike the situation when it released its iPod and iPhone, "by the time Apple gets this product to market, the market will be reasonably well-defined," he pointed out.
'An Interesting Dance'
What will make Apple's product competitive, Enderle predicted, is its back end.
"There will be a much harder connection to things like iTunes and MobileMe," he explained. "Theirs will appear to be a more complete solution."
Whether that will be enough to overcome a significant price differential, however, remains to be seen.
"Apple can carry a 2x premium OK, but 4x will be difficult," Enderle concluded. "It's going to be an interesting dance this time."