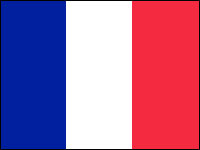 French taxi drivers reportedly attacked vehicles linked to the smartphone app Uber, which helps people find shared rides and drivers-for-hire — or, from cabbies' perspective, helps erode a time-honored business model.
Protestors blocked traffic and went after the service's vehicles, reported one Uber-using witness, Kat Borlongan. The vehicle she was in suffered significant damage, including a flat tire.
Something happened in Paris, Uber confirmed in a blog post decrying taxi driver violence as "unacceptable."
France was already on Uber's case for its impact on taxi services. To that end, the country recently began enforcing a mandatory 15-minute waiting period between reservation and pickup, giving taxis — which can pick people up immediately — an advantage.
Uber is merely the latest front on which France is waging war against the digital revolution. In late-2012, for example, the nation mulled a law that would force Google News and other aggregators to pay for displaying snippets of French news articles. Last May, the country discussed creating a special tax on tablets, laptops and smartphones as a way to fund the arts. Finally, in the fall, lawmakers voted to disallow Amazon's practice of offering both a 5 percent discount and free shipping on books.
[Source: The Register]
Canada Teen Guilty of Child Porn After Sexting
A teenage girl in Canada was found guilty of possessing and disseminating child porn after she sent messages containing incriminating photos of her boyfriend's ex.
The defendant, 16 at the time of the offense, shot the photos off to a friend. Because the victim was underage as well, the images constituted child pornography.
The accused also was charged with "uttering threats," so the case transcends child pornography.
The trial, heard in British Columbia, focused on three images and several text messages. The judge overseeing the case said that the messages accompanying the images were "mean, rude and antagonistic."
The defense attorney in the case said that it was unconstitutional to charge a youth who "sexts" with child pornography because adults are indeed allowed to text erotic images. Child pornography laws, he said, "were intended to protect children, not persecute them."
[Source: BBC]
Chinese Streaming Outfits Hope People Pay
China's video-on-demand industry faces an uphill battle getting Chinese netizens to part with their free viewing habits, which have been reinforced by years of unencumbered access to movies and TV shows, as well as a particularly vibrant counterfeit DVD industry.
China's top video streaming services increasingly are striking deals with rightsholders, and are protecting those investments by partnering with the Motion Picture Association of America to sue sites peddling content for free.
The CEO of one Chinese streaming company, Sohu.com, estimated that Chinese video companies like his could be spending up to US$500 million on purchases from the American entertainment industry by 2016.
[Source: The Associated Press]
Nokia Phone Leaks Onto Twitter
For the second time, photos of Nokia's as yet unreleased Android phone have popped up on the Internet.
In images appearing on Twitter and China's Weibo, the phone looks similar to leaked images that made the rounds last November.
The phone reportedly uses a forked version of Android, incorporating elements from Windows Phone and Nokia's own Asha series.
There was speculation, apparently unfounded, that the Android phone would be ditched after Nokia's mobile phone unit was purchased by Microsoft.
[Source: The Verge, WMPowerUser.com]