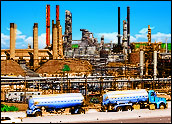 Part 1 of this two-part feature examines how fuel cell technology works and reviews the applications that have already been developed or are being researched using fuel cells. Part 2 looks at one of the most promising applications — hydrogen fuel cell-powered cars — and the problems holding back the technology.
As energy prices — crude oil, gasoline, heating oil, electricity and natural gas — continue to increase, the focus of governments and other groups, such as car makers, has turned to finding alternative energy sources. High on that list of potential technologies are fuel cells.
Much has been made about the future applications of fuel cell technology, particularly in the automotive sector. However, before the fuel cell can be viewed as a viable technology that will help solve our energy woes, some major problems have to worked out.
Fuel cells have been in use for more than 40 years — powering space capsules and the shuttle for NASA, and more recently in the form of stationary models used to help power buildings. However, several issues have kept the technology from reaching mass acceptance.
Auto Parts
While there are many types of fuel cells, such as high-temperature fuel cells or phosphoric acid fuel cells (the type used in the space shuttle), or molten carbonate and solid oxide fuel cells (which can generate power to run a home), the most common fuel cell technology for use in cars is the proton exchange membrane — or PEM — technology.
"Fuel cells convert fuel and air into electricity and are quite different from the technology we currently have in cars — the internal combustion engine," Scott Staley, chief engineer for hybrid and fuel cell technology development at Ford, told TechNewsWorld.
"Most of the car companies have zeroed in on [PEM]. It operates at a good temperature range, and it's got the right amount of power density. 'Power density' means it can generate enough power and still fit in a car," he explained.
All of the major car manufacturers either have a fuel cell-powered vehicle in development or are testing a hydrogen-powered car on the road. There is Chevy Equinox and BMW Hydrogen 7, as well as the Ford Fusion, Focus FCV and Explorer. Some carmakers have even begun to ship their hydrogen fuel cell models and also opened up dealerships. Honda, for instance, began delivery this summer of its fuel cell vehicle, the Honda FCX Clarity.
Despite Honda's recent delivery of its FCX Clarity to actress Jamie Lee Curtis in August, Staley said that it will be several years before the hydrogen-powered vehicles go into mass production.
"It's still fairly early days in terms of the cost equation. In terms of the function, many automotive companies, including Ford, have demonstrated fuel cell technology in cars. In fact, we have a fleet of 30 Focus vehicles we've converted to run on fuel cells. They've collected over 850,000 miles of operating experience in the last three years," he noted.
Pricey Solution
Hydrogen fuel cell-powered vehicles are still too pricey for carmakers to produce on a mass scale, according to Staley.
"We have some technology issues that we need to get the cost down on to make this an affordable transportation solution," he said.
It's impossible to put a price on the cost of a fuel cell engine for a few reasons, Staley noted.
"The engine itself depends on platinum. The conversion process in the fuel cell works on the basis of precious metals. It's similar to when we introduced three-way catalyst, when we first put catalytic converters on cars. There was a lot of platinum in those catalytic converters that made them very expensive," he explained.
Ford and other automakers are at the stage of technology development, Staley continued, where the precious metal content is so high that the price is not competitive at all. "That price needs to come down probably by a factor of 10 or more. There's a lot of serious science that has to be done to get those costs down. That's the bogey we're going after. Just five or six years ago, the factor was 100 to 1. Over that time we've made steady progress."
For the cost equation, car manufacturers need to get about half the job done by improving the technology. The other half deals with volume. The 30 cars Ford has on the road were all hand-built and custom-made, so there are no economies of scale. Increasing production volume will bring down the cost further.
On paper, fuel cells look great, said Nick Lenssen, an analyst at IDC's Energy Insights.
"We just haven't been able to make them work on an economic level yet," he told TechNewsWorld. "Even with some of the low-temperature fuel cells, there is complexity in converting the fuel into hydrogen on site, unless we eventually have some sort of hydrogen distribution system, which is decades away."
Gassy Problem
As Ford tests its fleet of hydrogen-powered cars, Ford has had to group them together so that they are in close proximity in order to refuel with hydrogen.
"Fuel cells work on hydrogen, not gasoline," Staley said. "The 30 vehicles are in different locations — but at each location we worked with a group or group of people to make sure there was access to fuel."
Both the refueling and cost problems need to be solved before the technology can replace fossil fuel-powered cars, he emphasized.
"Those are darn near equal. If we solved the cost equation, then everybody would wave the flag about where are you going to get hydrogen. If we solve the hydrogen question and the oil companies got motivated to put a hydrogen station on every corner, then somebody would have a flag and say these [cars] cost too much. They have to happen together. We have to get infrastructure out there, or the customers will never have the ability to go everywhere they'd like to go," Staley said.
However, the biggest problem with fuel cells is that they have to be renewed, argued Jim McGregor, an In-Stat analyst.
"With fuel cells, you're using something to create energy. Whatever you use — whether it be sugar, whether it be hydrogen or whether it be whatever — you have to refill it. That's the hardest thing, the distribution network," McGregor said. "How do you refuel things?"
Hydrogen is a great solution. As you burn it, it turns into water vapor, but currently the distribution network is just not there, he told TechNewsWorld.
"Some of the car companies have looked at hydrogen. Both Ford and Honda have fielded gas hydrogen solutions. BMW has one with liquid hydrogen and GM has toyed with quite a few [technologies]," McGregor said.
California counts the largest number of hydrogen refueling stations with 26 stations, noted Jennifer Gangi, project director at Fuel Cells 2000. Shell has also opened hydrogen refueling stations in the District of Columbia and White Plains, NY.
"As more cars come, more stations will come," said Gangi.
Other Issues
Hydrogen is much more stable than the gas that currently powers cars, said McGregor. However, another problem for carmakers is how to keep that gas under pressure.
"When you have a gas under pressure like that, you have to make sure you have a completely sealed system. One of the car manufacturers has seen that unless you completely shut that tank down, you eventually lose that gas through small leaks," he explained.
Liquid hydrogen presents a whole other set of issues — chiefly, how to transport it and keep the hydrogen cold enough, McGregor said.
One possible solution would save money on electricity and gas, he suggested.
"When you think of building an electrical system off the grid for a home or a business, you think if I'm using solar cells, I'm basically charging it during the day and storing that charge somewhere," he said.
There are two ways, however, to think about that, McGregor continued. The charge can be stored as electricity in batteries, or you can convert it into another energy source, like hydrogen. Then when energy is needed at night, the process can be reversed.
"Honda has come up with some very nice hydrogen units that can work both ways like that," McGregor pointed out. "The one for a home unit is about the size of a washing machine."
A fuel cell can not only generate energy, but also store energy — and that's an important differentiator, he added.