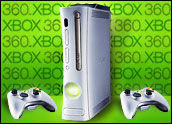 Part 1 of this four-part series gives an overview of the game console market this holiday season. Part 2 takes a closer look at the pros and cons of Microsoft's Xbox 360.
For all but the most dedicated gamers, the decision to buy one of the top three gaming consoles is anything but easy. Sunday morning newspaper advertisements shed little light on the matter, and Web sites are full of fanboy posturing over which platform is best. So which is better, the Xbox 360 or PlayStation 3? And what's up with the Wii?
The answers are nowhere near clear, and they're entirely dependent on what the user wants out of their living room gaming experience. To help those who are on the fence or shopping for loved ones, here's a closer look at the Xbox 360.
The Basics
Microsoft burst onto the gaming scene in November of 2001 with the original Xbox and the popular first-person shooter game "Halo." Microsoft later followed up with the even more popular "Halo 2." In fact, without Microsoft's "Halo" franchise, the Xbox 360 might not even exist. In fact, it's safe to say that a significant number of those who first bought the Xbox 360 did so in anticipation of last year's "Halo 3" launch, which had fans waiting in lines at midnight on launch day.
Basically, any original Xbox owner who still pays "Halo" and "Halo 2" would be thrilled with Halo 3 and an Xbox 360.
In addition to faster processing and much improved graphics capabilities, the Xbox 360 supports both 720p and 1080i/p resolution widescreen TVs, though the majority of games have been created for the 720p lowest common denominator (with upscaling to 1080p). Plus, newer generations of the Xbox 360 come with HDTV-friendly HDMI ports, making sweet high-quality HDTV connections a breeze.
Beyond the living room, Microsoft has created a thriving online Xbox Live marketplace, which is a service that connects gamers via high-speed Internet connections for competitive online play. It also lets users download games, free demos, movie trailers and HD movies. Speaking of movies, the Xbox 360 has evolved into a living room box that's more than just a high-definition gaming console. Netflix members can now use their Xbox 360 to stream movies … in 720p resolution.
That's not all — the Xbox 360 can also act as a set-top box that can deliver PC content to the living room, including videos, photos (with slideshows), and audio playback. Connectivity is achieved through a built-in Ethernet port or an optional 802.11g wireless adapter.
Not to be left out is the New Xbox 360 Experience (NXE), a revamped interface for both the Xbox 360 itself and the Xbox Live marketplace. Downloadable to existing Xbox 360s, NXE makes the entire Xbox 360 world easier and more intuitive to navigate.
The Pros
Boiling this down, the Xbox 360 has several advantages going for it that can vault it into a must-buy category.
First, it's an extraordinarily capable gaming console with wireless controllers that offer superb game play, especially on high-definition TVs.
Second, it's got an impressive library of hundreds of compatible game titles, with a handful that are exclusive to the platform and are good enough to sway some users: "Halo 3," "Gears of War 2," and "Fable 2" are three of the biggies, but "Halo Wars" should be released in early 2009.
Third, Microsoft's Xbox Live sets the bar for the best online game experience with additional movie and TV content services, including HD movie downloads.
Fourth, the Xbox 360 extends a variety of PC or USB hard drive-based content to the TV, including videos, photos and music.
Fifth, the New Xbox Experience offers a solid improvement for extending the Xbox beyond just games.
Sixth, the new low-end price point is an attractive US$199.
The Cons
Ah, the cons. Aren't there always at least a few?
The biggest con of the Xbox 360 is the lack of a Blu-ray drive for playing high-definition movie discs. Of course, Microsoft used to offer an HD-DVD drive, but when Sony's cartel won the war between HD-DVD and Blu-ray, Microsoft sensibly ditched the add-on drive. There's been some rumors of an add-on Blu-ray drive, but for now, those rumors are more wishful thinking than reality. Sure, the HD movie downloads are good … but they are not Blu-ray fantastic. The Xbox 360 does, however, play standard DVDs.
Microsoft has also had some trouble with reliability. Far too many customers have experienced the "red ring of death," in which various hardware parts inexplicably fail and the power indicator glows red, meaning the system has basically trashed itself. After customer outcry, Microsoft extended its one-year warranty to three years — but only for red ring of death failures and only to those who purchased the Xbox 360 first hand. Still, what gamer wants to ship off their Xbox 360, twiddle their thumbs, and wait for it to eventually return?
Red ring or not, the Xbox 360 tends to run hot — in fact, insufficient ventilation may be one reason so many units died a red death. However, newly manufactured Xbox 360s (as of October) are said to include a refined processor configuration that should produce less heat. In any event, the user shouldn't jam an Xbox 360 into tight entertainment center space or sit it on top of other electronic components.
As a consequence of the heat, the fans in the Xbox 360 tend to run often — and loudly — which is irritating for late-night "quiet" game play.
The last con is the lack of built-in WiFi connectivity. The add-on accessory, Microsoft's Wireless Network Adaptor, retails for around $90. Meanwhile, WiFi comes built-in on Sony's PS3 and Nintendo's Wii.
Pricing and Special Deals
The Xbox 360 comes in three basic configurations: Xbox 360 Arcade with 256 MB of storage ($199); Xbox 360 Pro, which is sometimes referred to as simply "Xbox 360," with 60 GB of storage ($299); and Xbox 360 Elite with 120 GB of storage ($399).
This holiday season, none of the top three console makers have any particularly impressive deals — but there are some benefits and gotchas worth noting.
The Xbox 360 Arcade comes with five basic games, including "Pac-Man" and "Uno." These simple games are hardly incentives for buying, but it will ensure that a child can use it immediately. The downside to the Arcade version is that its storage is so limited — 256 MB isn't enough storage to adequately run NXE, handle Xbox Live content, and use the Xbox as a living room media center, so buyers looking for those added benefits will need to upgrade by adding a hard drive. A 120 GB add-on hard drive costs an uncool $149, but Microsoft has a limited-time bundle worth snagging:
Arcade owners can upgrade to a 20 GB refurbished hard drive and get three months of Xbox Live Gold online membership for $29.99. It's unclear how long Microsoft will offer this bundle — presumably while supplies last. A hard drive, by the way, also makes it possible to play 300 first-generation Xbox games on the 360.
The Xbox 360 Pro and Elite models both come bundled with two games — "LEGO Indiana Jones" and "Kung Fu Panda." Aside from the hard drive size differences, the Elite is black and includes an HDMI cable. All new Xbox 360s include an HDMI port and only one controller. The Pro and Elite come with a headset for Xbox Live chatting (handy during multiplayer game play).
Some retailers may create their own sales and bundles, of course, but for the 2008 holiday season, this is pretty much it.
In Conclusion
The Xbox 360 is a solid all-around gaming platform, and because it's a lot like a computer, it's capable of being upgraded with additional media features. For most, the decision comes down to the Arcade or Pro version and whether they want to use Xbox Live to its fullest potential. Either way, Arcade buyers should seriously consider snapping up Microsoft's 20 GB refurbished hard drive deal for $29.99 sooner rather than later.
Overall, it's hard to go wrong with the Xbox 360.
Game Consoles, Part 1: The War for the Living Room
Game Consoles, Part 3: A Peek at the PS3