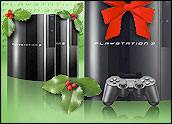 Part 1 of this four-part series gives an overview of the game console market this holiday season. Part 2 takes a closer look at the pros and cons of Microsoft's Xbox 360. Part 3 examines the PlayStation 3.
In the United States, there are approximately twice as many Xbox 360s in play as Sony's PlayStation 3 (PS3) — 14 million for the Xbox compared to almost 7 million for the PS3. This figure, however, doesn't tell the whole story: If you look worldwide, both consoles gain about 10 million units sold, which results in a closer gap of 24 million to nearly 18 million. Plus, Microsoft rushed its Xbox 360 out the door a year faster than Sony's November 2006 launch of the PS3 … and Microsoft may still be paying for its haste via an extended warranty program it rolled out to handle the PR mess of failing Xbox 360 systems.
Those differences aside, Sony's PlayStation 3 is a remarkably capable gaming console, and it has several advantages over other consoles — including one big edge: Blu-ray.
First, the Basics
There are many differences between gaming consoles, but the biggest and most obvious difference when it comes to the PS3 is the built-in Blu-ray drive. No other game console has built-in Blu-ray, though for a while Microsoft did sell an add-on HD-DVD drive. Blu-ray, however, has won the format war for the future of DVDs. If you're a consumer with a Blu-ray player and a larger high-definition television, you're going to want to buy or rent Blu-ray movies for the increased clarity and cool extra content.
It's not just any Blu-ray drive. The PS3 has one of the most capable Blu-ray drives on the planet. It's easy to update — because the PS3 is basically a Web-connected computer — and it tends to launch Blu-ray movies faster, with fewer errors than a lot of other (affordable) Blu-ray drives. Plus, for Blu-ray fans, Sony also sells a US$20 dedicated remote control that gives you streamlined access to the PS3's Blu-ray disc functions.
If you're looking for a Blu-ray player, now or in the near future, simply going with the PS3 is a darn good option all on its own.
Beyond Blu-ray
Ever since its introduction two years ago, Sony has been upgrading and refining the PS3. On one hand, this has led to a variety of confusing consoles and configurations, with hard drive sizes changing, media card readers and USB ports disappearing, changes in backward compatibility with PS2 games, choices between Dual Shock and Sixaxis controllers, and hard-to-follow price changes. Ultimately, though, it has led to a quieter box that runs cooler and sucks less energy.
Still, none of these little changes should really affect the buying decision — if you want a PS3, simply look for the best local retail or online price — and know that WiFi is built into all models (so no extra $90 hit like you get with the Xbox 360). In case you're wondering, the PS3 uses IBM's Cell processor and an Nvidia graphics processor, which makes the system capable of performing 2 trillion calculations per second. On paper, it's a more capable box than the also-powerful Xbox 360, though word on the street says developers have yet to take full advantage of the PS3's processing power.
In the online arena, Sony has done a bang-up job of improving its online PlayStation Network and media extender capabilities. First of all, online play is free (contrast that with Microsoft, which charges its Xbox 360 gamers via Microsoft Live). From the PlayStation Network, users can play multiplayer games. They can also download games, demos and videos, including movies like "The Dark Knight" and "Hancock" as well as network TV shows like "Fringe" and "24." Microsoft has the lead in terms of available content, but hey, both consoles and manufacturers are well aware of the future: the need for a living-room friendly device that starts with games and ends with everything else.
A case in point for the PS3 is that it's designed to be Digital Living Network Alliance (DLNA) compliant, making it an effective hub for the digital living room. In addition to downloading videos and movies, you can use the PS3 to surf the Web, stream music, view photos … and transfer some content to a PlayStation Portable (PSP) mini-gaming device.
Plus, Sony has made some recent firmware updates to improve Flash 9 support, which means you can watch streaming video on sites like Hulu.com in fullscreen mode — nice.
The 'Home' Conundrum
Sony has finally launched a global beta of its anticipated and delayed PlayStation "Home" virtual world service. Basically, it's an open beta of the application that all PS3 owners can join free, though some features will likely cost money. The Home virtual environment lets PS3 gamers connect for chats, hang out, interact with the environment — similar to Second Life — and launch multiplayer games. Users will be able to cruise around game-themed environments, as well as participate in a growing new ecosystem.
As of now, it's unclear how popular this new Home world will be … hence the conundrum. It may or may not turn into a key reason to buy a PS3.
The Pros
Like the Xbox 360, the PS3 is an extraordinarily capable gaming console, also with a couple of options for wireless controllers — look for the Dualshock 3, which offers vibration rumble, in addition to Sixaxis motion-sensitive action (which is built into a handful of games and lets gamers control some actions via controller movement, like the Nintendo Wii).
The excellent Blu-ray drive supports BD Live and loads faster than most standalone players, and it up-converts standard DVDs well.
While the PS3's stable of games is smaller than the other consoles', it's definitely growing. It also has some decent exclusive content either out not or on the horizon — games like "Uncharted: Drake's Fortune," "Resistance 2," and "LittleBigPlanet," among others. In 2009, first-person shooter fans will get the much-anticipated "Killzone 2."
WiFi connectivity comes built-in, and it's Bluetooth enabled, too.
Some games can run at the full 1080p HD resolution.
The PS3 also features easily upgradeable hard drives. While you can shell out for a larger hard drive, there's no compelling need to do it right away. With the price of hard drives falling, this becomes a compelling option that will let you keep upgrading your PS3 along the way. (The Xbox 360, by contrast, is far more limited in this regard.)
The Cons
The PS3 has only a couple of real cons. If there's an exclusive title on another gaming platform that you like, you're out of luck, but this con exists for all consoles, and it's entirely user-dependent.
No, the real con may exist more in the United States than in other countries, and it's all about friends — if your friends or their households have Xbox 360s instead of PS3s, you're out of luck for online gaming together in multiplayer games. Because the 360 has roughly twice the install base as the PS3, this is a possible drawback.
The last real con is the out-of-the-box cost. At US$399 for the base model, it's just a big cough of dough to get into a gaming system. By contrast, a low-end Xbox 360 will cost half that, while the Wii comes in at $249. Arguably, you get a lot more out of a PS3 right out of the box — Blu-ray, free online access, more hard drive, etc. — but still, the initial investment is higher.
Pricing and Special Deals
PS3 pricing and special deals this holiday season aren't particularly exciting, but there are a few tidbits worth noting. Depending on where you're shopping (brick-and-mortar retail or online) and what's in stock, you can get an 80 or a 40 GB "Metal Gear Solid" combo that includes "Metal Gear Solid 4" for $399. There's also a 160 GB $499 package that comes with "Uncharted: Drake's Fortune" and a "Pain" downloadable game voucher.
Brick-and-mortar outfits might even still have some packs available that include a few free Blu-ray movies.
In Conclusion
Like the Xbox 360, you can't really go wrong with a PS3. About the only way to mess up is if you've got friends — or your kids have friends — who are totally stoked on Xbox 360-only multiplayer games like "Halo 3" or "Gears of War 2." If you like the idea of Blu-ray movies and haven't found a standalone player to your liking, you can ditch your existing DVD player and use the PS3 for both your existing DVDs and newer Blu-ray discs.
The initial $399 price seems steep — but it's not bad at all if you plan to use the console's extended media features and play online games, because it comes with a decent hard drive and WiFi built-in.
Game Consoles, Part 1: The War for the Living Room
Game Consoles, Part 2: An X-Ray of the Xbox