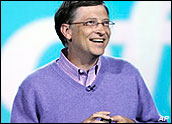 Microsoft Chairman Bill Gates gave his 11th and final keynote address at the annual International Consumer Electronics Show on Sunday, a speech laden with predictions that technology will grow ever more personal and interconnected in coming years.
Gates, who first addressed CES as keynote speaker in 1994, noted that this speech will likely be his last since he will complete a long-planned transition from day-to-day operations to a more low-key role at Microsoft this July.
In his speech — which was accompanied by a lighthearted video clip imagining his post-Microsoft life — Gates focused on three technological advances that will mark the next "digital decade."
HD, Integration, User Interface
Gates predicted that high definition video will become ubiquitous, from televisions to mobile devices, personal computers and Microsoft's touch-sensitive display screen known as "Surface."
"We won't just have the computer on the desk, but in the desk, so a meeting room table as you're collaborating, and the living room if you want to … play games with something like a Surface, or organize your photos," he said. "It will just be there, and easy to manipulate, easy to change and have multiple people connect up."
All those devices will be connected to ensure seamless integration of content as well, he noted. "No longer will users have to bridge between the devices. … If you just pick up the device and authenticate who you are, then you'll connect up to your information. So when you get a new phone or want to borrow a device, it will be a very, very simple thing to be up and running in a strong way. The devices will know your context, they'll know your location."
The third element Gates highlighted is what he called the "power of the natural user interface."
"The first digital decade was largely driven by the keyboard and the mouse. Just in the last two years, we've started to see the emergence of other modes of interaction," he said. "Touch on the Windows PC, touch on the iPhone, the Surface device that we're talking about. We started to see speech — the Tellme capability — built into the phone, the Ford Sync, where you get to talk and interact with your media or your phone capabilities."
Windows Live and Surface
Such alternative methods of accessing services and information have proven popular, and will help pave the way for even more intuitive interfaces, Gates argued.
"People are very interested in a simpler way of navigating the information. So the pen, with ink, touch, visual recognition, all of these come together with the other elements to create very new experiences. Gestures so that you can get things done, sitting in front of the TV set. We're just at the beginning of this."
Gates argued that Microsoft has an important piece of the puzzle in making such integration possible in the form of Windows, with Windows Product Management Director Mika Krammer demonstrating how using Windows Live can enable synching data across multiple users and platforms.
Gates highlighted a potential retail-setting use of Microsoft Surface, the touch-sensitive flat-screen debuted during last year's CES keynote. He demonstrated how a customer could use Surface to design his own snowboard and then instantly transfer that design to his mobile phone to share with friends before buying it.
Also featured during the hour-plus speech was the connectivity capabilities of the Microsoft Xbox 360 platform and the Zune portable media player, along with Microsoft's Silverlight software for transferring video to the Web — technology that will help power Web broadcasts of the 2008 Olympic Games in Beijing.
Saying Farewell
Gates has often used his CES keynotes to offer prognostications about the future as well as to debut new products or highlight how existing Microsoft offerings fit into newly emerging trends.
Some of those products have been flops, such as the "Bob" software plug-in that was meant to offer an animated guide through the PC interface. There have also been glitches along the way, such as a sudden blue-screen incident when Gates was debuting some Microsoft photo-sharing software two years ago.
"Gates' speeches have been important over the years because he tries to take in the big picture of where technology is headed," Yankee Group analyst Laura DiDio told TechNewsWorld. "Given his track record, he has significant credibility on that score."
Amid a series of cameos from the likes of U2 lead singer Bono, who said no when Gates asked to join the band after leaving the software company during the video clip, and actor Matthew McConaughey, who portrayed his personal trainer, Gates also broke the news that Microsoft has shipped more than 100 million copies of its new Vista operating system, up from 88 million when the company last gave an update in October.
The 100 million mark is a key milestone, but should be rapidly eclipsed once enterprises become more comfortable with Vista, Gartner analyst Michael Silver told TechNewsWorld.
That could happen soon now that Microsoft is preparing a Service Pack 1 for the operating system, which addresses some of the early complaints about Vista.
"A lot of larger organizations are a year or more behind on their planned Vista deployments," Silver said, suggesting a lack of urgency for making the switch. "That will start to change later this year."