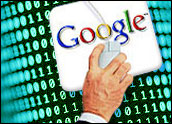 Google is launching a new effort to capture human knowledge on theWeb, test-driving Google Knol, a Web-publishing approach that is drawing comparisons to Wikipedia.
A "knol," according to Google, is a unit of information or knowledge, and the new publishing platform is being tested by individuals who have been invited to take part in a beta version, the search giant said Thursday.
The aim of Knol is to help bring some order to the vast amount of human knowledge being shared online, said Udi Manber, a vice president of engineering at Google.
"The Web contains an enormous amount of information, and Google has helped to make that information more easily accessible by providing pretty good search facilities," Manber wrote. "But not everything is written nor is everything well-organized to make it easily discoverable. There are millions of people who possess useful knowledge that they would love to share, and there are billions of people who can benefit from it," he added.
"The challenge posed to us" — by Google cofounders Larry Page and Sergey Brin and CEO Eric Schmidt — "was to find a way to help people share their knowledge," Manber noted. "This is our main goal."
Wiki – With a Twist
Knol will differ from Wikipedia — the open encyclopediathat invites users to submit articles and then opens them up to constant editing and updating by others — in one key way, Google said: The authors of knols will be heavily featured.
"The key idea behind the Knol project is to highlight authors. Books have authors' names right on the cover, news articles have bylines, scientific articles always have authors — but somehow the Web evolved without a strong standard to keep authors names highlighted," said Manber. "We believe that knowing who wrote what will significantly help users make better use of Web content."
The other way knols will differ is that the author will have the opportunity to make money from writing them. Though users will not be required to display Google ads, those who do will share in the revenue they generate.
Google will provide the platform, hosting and tools for designing and writing the pages and will not edit or censor the pages. The goal is to make each knol "the first thing someone who searches for this topic for the first time will want to read," added Manber. Google will not endorse content on Knol pages but will help move pages that it deems worthy up the rankings in search results.
"We do not want to build a walled garden of content; we want to disseminate it as widely as possible," the engineer wrote. "Google will not ask for any exclusivity on any of this content and will make that content available to any other search engine."
Answer to Answers
Google has tried before to leverage human knowledge in the search context. However, it shut down Google Answers earlier this year. At the time, Google said it had learned plenty from the two-plus years it ran the service — which required that users pay for answers — and would incorporate that knowledge into future products.
Having users submit pages to the new service could potentially give Google an abundant new landscape to populate with advertising, and because the knol pages will be focused on specific topics, they may be able to attract relatively high-value advertising, said Sterling Market Intelligence analyst Greg Sterling.
"If it takes off, you can certainly see applications for local content and advertising," Sterling told TechNewsWorld.
There's no guarantee, however, the service will succeed. Users may prefer to keep their knowledge contained to their own blogs or other Web sites, rather than turning it to over to help further enrich Google.
Wikipedia, meanwhile, is a heavily visited Web community. Though the site has tried to raise editorial standards to ensure content is accurate, it continues to come under fire for occasionally spreading misinformation.
More Advertising?
While the new initiative may prompt some to question whether Google has strayed too far from its search roots, the Knol project fits with other efforts to organize what is otherwise scattered information, Forrester Research Vice President and Principal Analyst Charlene Li told TechNewsWorld.
Its Google Base project has yet to make the splash some had feared it might in the classifieds and miscellaneous information space, but it has helped create more searchable content, Li noted.
"More content means more places to deliver ads to and the more specialized it is, the more advertisers will be interested in it," Li said. Still, Google may face an uphill battle in distinguishing its new offering from its own blogging tools or the existing — and already widely used and known Wikipedia, she added.