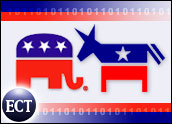 In a bid to tap into the citizen journalism movement and emphasize the interactive possibilities of social media, MySpace will team with NBC News and MSNBC.com to offer two of its millions of users the chance to attend and cover this summer's national political conventions.
Starting Thursday and until July 16, members of MySpace over the age of 18 will be able to submit short video clips to the Decision '08 Convention contest, answering questions such as why they feel voting is important, how they'd get convention "scoops" or why they're the right person for the citizen journalism role.
A panel of experts from the networks — including TV personalities such as Joe Scarborough and MySpace cofounder and President Tom Anderson — will then choose finalists, and the MySpace community will vote on the two winners, who will be invited to visit the NBC News media center at the Democratic national convention, slated for Aug. 25-28 in Denver, or the Republican's gathering, which will take place in Minneapolis starting Sept. 1.
"We're empowering MySpace users with a unique opportunity to express themselves from the most important political events of the summer," said Lee Brenner, who oversees political programming on MySpace.
Joe Reporter
In addition to tapping into the trend toward citizen journalism — which seeks to leverage Web 2.0 tools to give the average person a more prominent voice — the contest also highlights MySpace's efforts to bring community members together around social and political issues through the network's Impact channel.
MySpace has built candidate profiles and other content on its Impact site, which seeks to get users to interact with other members around issues and candidates about which they feel strongly.
The contest winners will have their video- and text-based reports included as part of the Decision '08 content on MySpace and on MSNBC.
MySpace owner Rupert Murdoch has introduced citizen journalism in other parts of his media empire as well, opening up the Fox News Channel to viewer-submitted eyewitness video and first-hand reports, a program known as "UReport."
Testing Reactions
It may be more interest that NBC is backing citizen journalism, as traditional networks have so far done little more than toe-dip in the grassroots journalism movement, Forrester Research analyst Thomas Mendel told TechNewsWorld. NBC and Microsoft co-own MSNBC.com.
"News companies have done a lot more with blogging and other 2.0 technologies and tools, but turning the tools of their media machine over to the public is something they still have qualms about," he said.
The partnership with MySpace may offer a way to test reaction to the approach at arm's length. "This will be a window into how the young audience of MySpace reacts to this style of journalism."
A Peek at the Future?
"This is the shape of things to come," Jennnifer McClure, executive director of the Society for New Communications Research, told TechNewsWorld. "We've certainly seen over the past year or two media entities like The New York Times incorporate more social elements into their offerings, and social media entities have become a more viable form of journalism. I think we're going to only see more convergence of the two over time."
Coverage of major events outside politics, such as the London subway bombings and Hurricane Katrina, has already been impacted by citizen journalism. Meanwhile, studies suggest trust levels in traditional one-way media are declining as people become skeptical of bias and of news outlets that don't allow for two-way interaction, McClure added.
"Thinking people are looking to alternative sources to be able to voice their political views or supplement their news," she said. "That's particularly true among the younger demographic, and it's something mainstream media needs to embrace to remain viable."