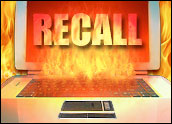 Gateway, in conjunction with the U.S. Consumer Product Safety Commission (CPSC), announced the recall of some 14,000 notebook computer batteries. Laptop PCs with the defective batteries can overheat and pose a fire hazard for consumers, the organizations said.
"Gateway is working with its suppliers to cover the cost of replacement battery packs and certain other related costs," according to the computer maker.
Gateway, the No. 3 computer vendor in the U.S., said it will replace the affected battery packs at no cost to laptop owners. Consumers can still continue to safely use their notebook PCs by turning off the machine, removing the battery pack and using only the AC adapter and power cord to power the system.
Fire Starter
The Gateway lithium-ion battery packs were shipped as the primary battery or spare pack in Gateway's 400 VTX and 450 ROG series of notebook computers. The machines and batteries were sold through Gateway's professional and direct distributors as well as Gateway Country Stores across the U.S. for four months between May 2003 and August 2003. The affected systems sold for US$1,200 and $2,400, while individual batteries were sold for between $60 and $90.
The defective batteries, manufactured in China, are identified by part numbers 6500760 or 6500761. That part number and the words "made by SMP" are printed on the label along the underside of the battery pack, according to the CPSC.
"Consumers should stop using these recalled batteries immediately and contact Gateway to receive a replacement battery," the government agency said.
Gateway received reports from four consumers of the battery packs overheating, causing mild property damage. So far, however, no injuries have been reported.
More information is available via the company's Web site.
Big Club
The Gateway recall is just one more in a long list of battery recalls kicked off in August 2006 when Dell recalled nearly 4 million batteries on its Inspiron line of notebook computers. Apple, Lenovo, Toshiba, Panasonic, Acer and Gateway eventually joined the recall of 8 million Sony-manufactured batteries.
Business users have come to accept that hardware can be defective on occasion, Benjamin Gray, a Forrester Research analyst, told TechNewsWorld. "Most laptop customers view these recalls as an annoyance."
Battery manufacturers, as a direct result of the earlier recalls, are taking a careful look on improving their manufacturing processes, according to Gray. "So it's less of a matter of developing new technologies and more of a matter of maintaining their high manufacturing standards."
Old Notebooks
The issue of defective batteries needs to be corrected and is something the computing industry takes very seriously, Tim Bajarin, principal analyst at Creative Strategies, told TechNewsWorld.
"In fact, vendors have worked overtime to make sure these batteries are safer than ever," he noted.
Recalling components on four-year-old notebooks would normally be a major undertaking, but because the systems were sold via direct channels, Gateway has more information than manufacturers normally do on its owners.
"It is not hard if they have the registrations of those who purchased these laptops," Bajarin said. "But for those who did not register their laptops, they have to hope that these users read about it and respond accordingly."