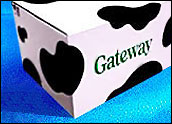 Quad-core processors from AMD and a hybrid-format optical drive are among the highlights of two new desktop PCs released by Gateway on Wednesday.
The Gateway GM5664 and GT5662 both feature an AMD Phenom Processor and DirectX 10 Technology, thereby enhancing the entertainment and performance capabilities of each line. A new Hybrid-SuperMulti drive in the GM5664, meanwhile, allows customers to watch both Blu-ray and HD DVD content.
Both are now available through leading retailers. The entertainment-focused GM5664 is priced at US$1,149.99, while the GT5662 costs $749.99.
ATI Radeon HD Graphics
The quad-core power in AMD's Phenom processor makes it well suited for gaming and other processor-intensive programs, Gateway said, while 3 GB of memory delivers fast system response for smoother multitasking.
In addition to DirectX 10 support, both machines also feature ATI Radeon HD 2400XT graphics with 256MB of video memory and HDMI output, allowing them to render hyper-detail, shadows, texture and film-quality images, the company said.
With a Phenom 9600 processor, the GM5664 is oriented toward users interested in extreme gaming, digital photo and video editing, watching TV or movies and storing a massive media library. In addition to the hybrid optical drive, the machine features an integrated analog/digital TV tuner with remote control that lets consumers watch, pause and record their favorite live programming.
Productivity PCs
Also included on the device are a 1 TB hard drive for storing large digital libraries and a 400 watt power supply. A SmartCopy button allows users to transfer and file digital photos with one touch, Gateway said.
Gateway's GT Series of desktops, on the other hand, are aimed more at consumers interested in creating and editing digital content or simply managing finances and staying productive.
Built on an AMD Phenom 9500 processor, the GT5662 includes a 500GB hard drive as well as a SuperMulti drive that allows consumers to burn content onto either DVDs or CDs. Labelflash technology, meanwhile, enables consumers to add a customized touch by laser-burning text, digital images or photos directly onto their personal discs.
Both the GM5664 and the GT5662 run on Windows Vista Home Premium.
Lingering Hesitation
Though Blu-ray has increasingly been viewed the winner in the DVD format wars of late, many consumers have still been hesitant to commit to either Blu-ray or HD DVD, Ian Lao, a senior analyst with In-Stat, told TechNewsWorld.
Gateway's decision to include a dual-mode drive, then, "is a nod to the lingering effect of the format wars, and a very clear acknowledgment of consumers' hesitancy," he said.
Gateway's choice of a National Television System Committee (NTSC) tuner in the GM5664, meanwhile, clearly positions the machine toward the North American market, Lao noted. Phase Alternating Line (PAL), by contrast, is the format widely used in Europe and Asia, he explained.
Passive and Active Usage
By orienting the GM5664 toward both TV viewing and gaming, meanwhile, Gateway is combining usage modes in a single machine, Lao added. Gaming machines are traditionally focused on interactive usage, where users interact intensely with the PC, he explained.
"That's very different from what I think of as a traditional entertainment PC," Lao said.
"Entertainment PCs have been trying to get the best of the audio cabinet from the living room and bring some computation capabilities to it," he added. "It's a passive usage model."
By combining both passive and interactive usage in its PC, then, Gateway is departing from the idea of the traditional entertainment PC, he said.
"Here it looks like they're saying it's going to live in the office or on a computer desk, not in the living room, and yet it will have some crossover capability," he said. "The question is, how often do people want to watch TV in that context, given how much is available on the Web?"
High-End Competition
The GM5664's price point is a good one, but it remains to be seen how well the machine will fare against serious gaming entries like HP's Voodoo models, Michael Cai, director of broadband and gaming research for Parks Associates, told TechNewsWorld.
"Core PC gamers really drive a lot of high-end PC sales, and have always been a target for major PC manufacturers," Cai noted. "The thing for Gateway will be whether its performance will compare."
If it does, it could appeal to gamers who are interested in gaming machines but can't afford a $3,000 price point, Cai said. Of course, "it's still a Gateway-branded PC," so it won't have the cachet of a Voodoo offering, Cai added. "Really hard-core PC gamers will pay attention to that."