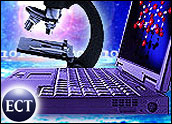 Genome researchers have successfully transformed one bacterial species into another by replacing all of its DNA, according to a report published Thursday.
Biologists at the J. Craig Venter Institute transplanted the entire genome, or set of DNA, from one species of Mycoplasma bacteria into another. About three days later, the DNA from the first bacterium had taken over the second so that it became indistinguishable from the donating bacterium, the scientists reported.
The work was published in Science Express, the online publication of the journal Science by Carole Lartigue and colleagues from the Venter Institute.
Synthetic Organisms
"The successful completion of this research is important because it is one of the key proof of principles in synthetic genomics that will allow us to realize the ultimate goal of creating a synthetic organism," said J. Craig Venter, president and chairman of the Institute.
"We are committed to this research as we believe that synthetic genomics holds great promise in helping to solve issues like climate change and in developing new sources of energy," he explained.
'Significant Advance'
"It is indeed a significant advance, and has a lot of implications," agreed Andrew Ellington, professor of biochemistry at the University of Texas at Austin.
Whether the success can be replicated in organisms that are more different from each other genetically than the two bacteria were remains to be seen, Ellington told TechNewsWorld. "I tend not to think so, but it's an interesting question: How far away can you be?" he said.
The work raises a number of evolutionary questions, Ellington added, but probably one of the most exciting implications will be the ability to recode the genetic material of an organism. "I think that's really awesome," he said. "It has huge potential."
Ethical Implications
The study's researchers were careful to get ethical approval ahead of time, but for some, the potential for creating new species evokes images from science fiction and raises ethical concerns, they noted in their report.
"Certainly this has bioethical implications," Kelly Hills, Pfizer fellow in bioethics at the Alden March Bioethics Institute of Albany Medical College, told TechNewsWorld.
"One concern is that you could make a bioterrorist organism," Hills said. For example, if a small pox genome could be inserted into an anthrax cell, which is exceptionally hard and durable, it could make for a devastating weapon, she noted. "It would take specialized knowledge, but there would be a concern about rogue states that are able to buy or fund their own research in this area," she said.
Positive Potential
Nevertheless, researchers have already had the ability to transform plasmids, or portions of DNA, into cells for a long time, Ellington noted. While the new technique would allow the creation of more complex systems, the biohazards wouldn't be that much worse, he said.
The positive potential is considerable. Genome transplantation could lead to the creation of new biofuels as well as synthetic organisms that could be used to create "atmospheric scrubbing bubbles" that could help remove pollutants such as excess carbon dioxide from the atmosphere, Hills suggested.
"With all the possibilities for fuel, transportation, and environmental cleaning, I think it would be a disservice to focus just on the negative," she said.