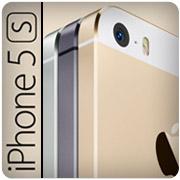 The Chaos Computing Club, a group of German hackers, claimed to have cracked Apple's new iPhone fingerprint scanner.
The scanner is one of the distinguishing features of Apple's new iPhone 5S, which is otherwise quite similar to the iPhone 5.
CCC published a video on its website purportedly showing the group doing the deed:
It was not immediately clear whether CCC's claims were true, but "two prominent iPhone security experts" told Reuters that the German group had indeed toppled Apple's Touch ID.
It pulled its trick, CCC said, by photographing an iPhone user's fingerprint and then printing that photo onto a transparent sheet. The sheet was used to create a mold for a fake finger.
And — voila.
CCC set about cracking the fingerprint scanner to demystify the technology and refute its "marvels," it said.
[Sources: Chaos Computing Club via Reuters]
Snowden's Latest Tell: UK Hacked Belgian Telecom
Call it the leak that keeps on leaking.
Information from Edward Snowden's trove of documents suggests that the UK's Government Communications Headquarters, or GCHQ, orchestrated a cyberattack against Belgian telecommunications firm Belgacom.
Germany's Der Spiegel magazine — one of the outlets chosen by Snowden to peddle his leaks — said it saw a "top secret" GCHQ presentation of a project ("Operation Socialist") designed to "enable better exploitation of Belgacom" and help better understand the provider's infrastructure.
The presentation in question is not dated, but another document suggests "access has been possible since 2010," Der Spiegel reported.
Belgacom is a noteworthy firm; its clients include a laundry list of political bodies such as the European Commission, European Council and European Parliament.
[Source: Der Spiegel]
David Cameron Favorites Unfortunate Tweet
The official Twitter account for British Prime Minister David Cameron Favorited an insulting tweet.
The flub occurred after Cameron's account tweeted condolences to Kenyan President Uhuru Kenyatta following the vicious attack on civilians in a shopping mall in Kenya. Cameron's tweet mentioned also that foreign secretary William Hague would be making a statement.
In reply, one Twitter user posted, "David-Cameron please call off WilliamHague, hasn't Kenya suffered enough today?" It was that tweet — posted by someone who reportedly had an offensive Twitter handle — that got favorited.
The tweet was favorited by mistake and was removed as soon as it was discovered, a spokesperson for Cameron said.
[Source: The Guardian]
China Lifted Drone Technology via Cyberespionage
A cybersecurity company and an American security official believe that Chinese hackers have stolen U.S. drone technology.
FireEye, a California-based cybersecurity outfit, dubbed the drone espionage campaign "Operation Beebus." The "general address and tools" linked to the campaign are associated with the so-called Comment Crew, the firm said. The Comment Crew is a Chinese hacker group identified as part of the People Liberation Army's Unit 61398, the Shanghai-based hacking unit that was outed by U.S. security firm Mandiant.
Operation Beebus initially targeted large defense contractors, but then also focused on smaller companies specializing in drone technology, according to FireEye.
Whether or not it was aided by stealing U.S. secrets, China has been bolstering its drone arsenal. Earlier this month, for example, China sent a drone to skim islands at the heart of a territorial dispute it's waging with Japan. China reportedly has a stealth combat drone as part of its drone fleet, which is the second biggest in the world behind the U.S.
[Source: The New York Times]
Nairobi Killers Take to Twitter
Al Qaeda-linked insurgent group Al-Shabab took to Twitter to spout off about its massacre at a mall in Nairobi, Kenya, which has claimed at least 59 lives.
Twitter has suspended the Somali group's Twitter accounts before, but the group has simply opened up new accounts — as it did yet again, this time to discuss its killing spree in Kenya.
The group was tweeting from the handle @HSMPress, but Twitter has suspended the account.
[Source: Slate]