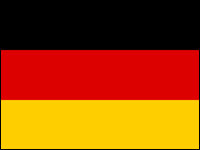 The chief executive of one of Germany's biggest media companies penned an open letter criticizing Google, saying that his company is afraid of Google and its ever-swelling power.
The letter, written by Mathias Dopfner, the chief executive of media giant Axel Springer, opines that Google's technology platforms spread more quickly and more efficiently than anything in the world — save "biological viruses." Dopfner also asks whether Google plans to create a "superstate" in which antitrust and privacy laws don't exist.
Axel Springer publishes more than 200 newspapers and magazines, so while Dopfner's hyperbole is pretty thick, his screed, addressed to Google headman Eric Schmidt, is noteworthy. (The letter itself was published in a Frankfurt newspaper that is not part of the Axel Springer empire.)
Schmidt recently wrote a column of his own discussing the advertising relationship between Axel Springer and Google. Dopfner acknowledged that Axel Springer was pleased with the relationship, but added that there was little choice.
Dopfner touched on Google's ongoing dispute with the European Commission, which for years has been pursuing antitrust allegations. Google and the commission struck a tentative deal in February, but Dopfner seemed less than impressed by the conditions, declaring that the compromise sanctions a business model that "in less honorable circles is called extortion."
Google has long had a quirky relationship with Germany. The company has taken flak for Street View, secret data-slurping, auto-complete and Google News, to name a few beefs.
[Source: BBC]
Snowden Lobs Softball to Putin During Q&A
During a question-and-answer session broadcast on Russian television, NSA leaker Edward Snowden lobbed a softball to President Vladimir Putin.
"Does Russia intercept, store or analyze, in any way, the communications of millions of individuals?" Snowden asked.
To the surprise of no one, Putin said that Russia does not conduct mass data collection, adding that Russian intelligence efforts are "strictly regulated by our law."
Of course, this is the country that has a law banning gay "propaganda," so feel free to roll your eyes at Putin's reverence for Russian law.
Snowden appeared at the Q&A via a video link from an undisclosed location, according to Russia Today, which broadcast the proceedings.
[Source: Politico]
Canadian Police Charge Teen in Heartbleed Case
Police in Canada have charged a 19-year-old for exploiting the so-called Heartbleed computer bug and meddling with taxpayers' data via the country's tax agency website.
Canada was forced to shut down its online tax-filing service earlier this month amid security concerns.
This kid, apparently, was at the heart of those concerns; he has been charged with unauthorized use of a computer and mischief in relation to data.
The suspect reportedly is a computer science student at Western University.
[Source: The Associated Press]
Arrest Made in the Netherlands in Amanda Todd Case
Authorities in the Netherlands have made an arrest related to the death of Amanda Todd, a Canadian teenager who committed suicide after being blackmailed into exposing herself in front of a webcam.
The 15-year-old detailed the harassment in a YouTube video that was watched millions of times.
The suspect was a 35-year-old man in the Netherlands who has been charged with extortion, luring, criminal harassment, and possession of child pornography with the purpose of distribution.
The man reportedly is suspected of blackmailing girls in the Netherlands, Britain and the U.S.
Todd exposed herself on a webcam, and the pictures then landed on a Facebook page made by the stranger. Todd's friends were added to the page.
[Source: The Guardian]