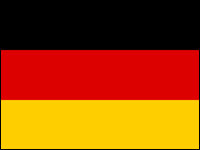 It turns out that Germany, Europe's most outspoken critic in the wake of U.S. snoopingrevelations, has itself used a National Security Agency spying program and collaborated with the NSA on surveillance.
Takes one to know one.
Germany's foreign intelligence service, called the "BND," and its domestic intelligence agency, or "BfV," have supported the NSA and its counterterrorism efforts, the nation's Der Spiegel reports. In fact, millions upon millions of data connections in Germany were accessed monthly by the NSA, the publication notes, and collaboration between the NSA and German intelligence agencies has "recently intensified."
This, to be sure, is unlikely to sit well with Germans, who are wary (and ticked off) about U.S. snooping.
Der Spiegel is coy about how, exactly, it obtained this information, referencing only "documents" that it had seen. The outlet does not mention Edward Snowden, who had sought out the publication earlier this month to peddle leaks.
Documents also reportedly suggest that the BND has been trying to persuade the German government to loosen privacy laws.
[Source: Der Spiegel ]
UK to Enact Tougher Porn Regulations
Saying that online pornography is "corroding childhood," British prime minister David Cameron announced that every household in the UK will have pornography blocked by Internet service providers unless the household specifically expresses its desire to have access.
In addition to this so-called "opt-in" policy, Cameron said that possessing online pornography that depicts rape will be illegal.
What's more, Cameron believes search engines have a "moral duty" to play a more active role in blocking pornography. Thus, they will have until October to implement measures to block illegal content.
The UK's Child Exploitation Online Protection Center will have expanded powers to monitor file-sharing networks. In addition, a database of banned child porn images will be used to trace illegal content.
The UK has been discussing stiffer regulation of online pornography for more than a year.
[Sources: BBC; The Guardian]
'Eye Massagers' Booming in Taiwan
Electronic massage goggles are experiencing a boom in Taiwan.
The goggles, which look a bit like ski goggles, have been selling steadily in Taiwan for years, but have reportedly seen a 30 percent spike in the first half of this year compared with 2012. Some claim the sales are due to increased strain from smartphones, computers, et al. The term "head-down tribe" has apparently gained traction in Taiwan, referring to people whose eyes are constantly affixed to devices.
The devices contain massagers inside the goggles and have various features, including mood lights and music.
[Source: The Wall Street Journal]
Former CIA Head Implicates Huawei
Michael Hayden, the former head of both the CIA and NSA, said that he is aware of hard evidence showing that Huawei has spied for the Chinese government.
In an interview with The Australian Financial Review — Australia, by the way, has had its own issues with Huawei — Hayden said evidence shows that Huawei "shared with the Chinese state intimate and extensive knowledge" about foreign telecommunications systems.
Huawei, wouldn't you know, isn't buying the allegations.
The U.S. last year formally declared that Huawei and fellow Chinese telecom ZTE should not be trusted to operate U.S. communications networks.
[Sources: The Australian Financial Review via Reuters]