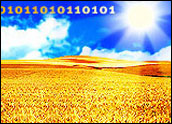 Drought trends that have affected the American Southwest in recent years are likely to get worse in upcoming decades, according to a new study from Columbia University.
Using projections from 19 different climate models, the study's authors found that there is widespread agreement that southwestern North America and the subtropics in general will get even drier than they are today. The result by mid-century, the study predicts, will be a perpetual drought in that area.
"The arid lands of southwestern North America will imminently become even more arid as a result of human-induced climate change just at the time that population growth is increasing demand for water, most of which is still used by agriculture," said Richard Seager, senior research scientist at Columbia University's Lamont-Doherty Earth Observatory and one of the lead authors of the study, which appears this week in the publication Science.
Global Warming to Blame
Unlike droughts in the past, however, the study finds that future drying is not linked to any particular pattern of change in sea surface temperature; rather, it is the result of an overall surface warming driven by rising greenhouse gases.
"Our study emphasizes the fact that global warming not only causes water shortage through early snow melt, which leads to significant water shortage in the summer over the Southwest, but it also aggregates the problem by reducing precipitation," said coauthor Mingfang Ting, Doherty senior research scientist also at the Lamont-Doherty Earth Observatory.
"This is a pretty sobering report," Kelly Redmond, regional climatologist and deputy director of the Western Regional Climate Center, told TechNewsWorld. "We have a lot of decisions facing us anyway, regardless of climate change — specifically, what will we do about water and the Western states. Those issues will be on our plate no matter what."
What Kind of Drought?
The challenge when analyzing a drought situation, he added, is determining whether it's just another of the standard types of droughts that have typically occurred once or twice a century, or if it's a special drought situation resulting from genuine climate change.
"It wouldn't surprise me if it's a little of both," Redmond stated.
"It may take some time before we can disentangle the two," he continued.
"This fits the pattern of what has been happening," agreed Kevin Trenberth, head of the climate analysis section at the National Center for Atmospheric Research.
More Heat, Less Water
"A big part of global warming is that more heat is available, and it goes into evaporation — drying rather than raising temperatures," he told TechNewsWorld. "We're then left with just individual storms to bring moisture back in, but they're less likely to be able to counter the mean drying trend."
Looking forward, some of the undesirable consequences are inevitable, Trenberth said — at least in the next 30 years or so. However, beyond that point, reducing emissions could make a difference. "So, let's get on with the idea that carbon dioxide is a pollutant, as the Supreme Court just said, and cut down on emissions," he urged.
If the study's predictions are true, there will be important consequences in water usage, regional development and cross-border relations, the study's authors said.
The Politics of Water
"The West, and in particular, the United States and Mexico, need to plan for this right now, coming up with new, well-informed and fair deals for allocation of declining water resources," Seager said.
"We need to recognize that this is a problem that's coming along and try to plan with water managers," Trenberth agreed. "The problem worsens as demand increases," he noted. "More housing developments don't help."
Of course, part of the difficulty with planning ahead in these types of situations is that those who are not immediately affected find it difficult to see the urgency.
"If you don't have some kind of connection to it, it's too abstract," Redmond noted. "That's the big challenge that's in front of everybody — to stand back from your own situation, look at the totality and see your own part in it all."