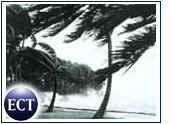 Atlantic hurricanes will be fewer in number but more intense as a result of global warming, a new study predicts.
In the study, which was conducted by scientists at the National Oceanic and Atmospheric Administration's Geophysical Fluid Dynamics Laboratory in Princeton, N.J., researchers performed hurricane simulations using a new model that they say improves upon previous ones with both higher resolution and an improved ability to simulate past observed changes in Atlantic hurricane activity.
The regional model was first tested on historical data and found to successfully reproduce Atlantic hurricane counts year-by-year from 1980 to 2006. It was then used to test the influence of greenhouse gas warming on Atlantic hurricane activity through the end of the 21st century. What it found was higher levels of wind shear and other changes that could result in a reduction of the overall number of hurricanes expected.
The study was published online Sunday in the journal Nature Geoscience.
'A Mixed Picture'
"This study adds more support to the consensus finding of the Intergovernmental Panel on Climate Change and other reports that it is likely that hurricanes will gradually become more intense as the climate continues to warm," said Tom Knutson, research meteorologist and lead author of the report. "It's a bit of a mixed picture in the Atlantic, because we're projecting fewer hurricanes overall."
Through the emerging Global Earth Observation System of Systems (GEOSS), the NOAA is working with more than 70 countries and the European Commission to develop a global monitoring network.
Knutson's coauthors were the NOAA's Joseph Sirutis, Stephen Garner, Gabriel Vecchi and Isaac Held.
Warmer Sea Surface Temperatures
Surface temperatures of the tropical Atlantic Ocean have increased over the past century, and several studies have reported strong correlations between such increases and measures of hurricane activity since at least 1950.
Indeed, "scientists have found that the destructive potential of hurricanes has increased alongside the increase in ocean temperatures over the past 35 years," Eric Young, a spokesperson for climate and energy with the National Resources Defense Council, told TechNewsWorld.
"Because the ocean is getting warmer, tropical storms can pick up more energy and increase in power," Young said. "So global warming could turn a category 3 storm into a much more dangerous category 4 hurricane."
An increase in hurricane intensities globally is assessed as "likely" in the Intergovernmental Panel on Climate Change Fourth Assessment Report issued in 2007.
Results of the study support previous studies that have examined the influence of global warming from increasing greenhouse gases on hurricane intensity, its authors said. The total impact of global warming on hurricane activity, however, is still not fully agreed upon.
Circulation Changes
The new study suggests that in the Atlantic basin, global warming from increasing greenhouse gases will have little impact — or maybe even cause a decrease — in tropical storm and hurricane numbers.
Large-scale environmental changes in circulation, such as wind shear, and moisture levels are most likely the dominant factors producing the reduced storm frequency, the study's authors said.
"We'll need to keep an eye on upcoming model studies to see how robust the projected increase in wind shear over the Atlantic turns out to be," Knutson added.
'Grossly Extrapolated'
Other experts in climate change are not so sure the study's results can be taken at face value.
"I thought the study was useful as to what they had done, but the authors drew some conclusions that were grossly extrapolated," Kevin Trenberth, a scientist who leads the climate analysis section at the National Center for Atmospheric Research, told TechNewsWorld.
"The study is basically a downscaling — it takes the output from climate models, and uses that as an environment for seeing what happens to hurricanes at some point in the future," Trenberth explained. "Major assumptions have gone into this, and both the sea temperatures in the tropics and the structure of the atmosphere, for example, are likely to be wrong."
Wind shear, meanwhile, "is unique to the Atlantic and can't be extrapolated globally," he added — despite the fact that the study does make some global generalizations, he noted.
Red Flags
In addition, while the authors' model gets "reasonably good results on past data in terms of the numbers, they don't replicate storms above category 1, and so are not looking at the most severe ones, which are those that can do the most damage," Trenberth noted.
"My bottom line is that I think the study is useful, but conclusions are drawn from it rather inappropriately," Trenberth concluded. "It should have a red flag attached that says, 'Beware: You may not be able to trust some of these conclusions, especially for more intense storms.'"
Still a Problem
It's also a mistake to use the study's results to downplay the need to take significant steps to combat global warming, Aaron Huertas, spokesperson for the Union of Concerned Scientists, told TechNewsWorld.
"Regardless of the hurricane impact," Huertas stressed, "we need to cut emissions to avoid more severe droughts, wildfires, sea level rise and other things we know will absolutely be a consequence of continuing with business as usual."