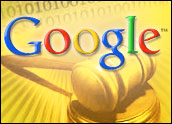 Germany's parliament on Thursday began discussing legislation that would allow the nation's news publishers to charge search engines for displaying links to, and snippets of, news articles. Before debate began, Google launched a very public campaign on its German site asking the public to oppose the legislation.
According to the Financial Times, the proposed law would require search engines to seek permission from publishers to display links along with snippets or teasers from news articles. Newspapers and magazines, in turn, would be allowed to charge the search engines for that permission.
The discussions come at a tumultuous time for German media outlets. The DAPD, which had a partnership with the Associated Press, recently announced insolvency, as did FTD, the Financial Times' Germany branch.
Google, which would figure to be the biggest loser should this law get approved, launched a public campaign on Tuesday to try to rally support against the legislation. The Google campaign, called "Protect your Web — find what you're looking for," warns that Germany's proposed ancillary copyright legislation could be the death knell for free access to information on the Internet.
The New York Times called it a "rare public broadside" for a company that likes to keep a low profile in Germany. Google has also opposed similar legislation in France.
A lawmaker from Germany's Christian Democratic Union told The New York Times that he had no doubts the legislation will pass.
Nokia Seeks Block on BlackBerry
Yet again, a mobile giant is has engaged in a patent dispute with a competitor. But in a departure from the norm, this one doesn't involve Apple and Samsung.
According to Computer World, Nokia has asked a court in California to enforce an arbitration ruling that would block sales of certain BlackBerry smartphones. A September ruling from the Stockholm Chamber of Commerce, which was acting as arbiter, disallows BlackBerry maker Research In Motion from making devices that offer a certain type of wi-fi unless it pays license fees, and Nokia says RIM hasn't ponied up.
RIM reportedly argued that it should be absolved from the fees because it had participated in a previous licensing deal with Nokia.
RIM's shares proceeded to dive more than 10 percent in after-hours trading but recovered when the Nasdaq reopened.
According to the BBC, Nokia will also pursue a separate case in Germany against Canada-based RIM involving antenna, email and navigation technology.
Samsung to Launch Android-Powered Camera
Samsung is releasing a new Android-powered Galaxy camera.
According to Reuters, the camera allows users to upload pictures to social networking sites via mobile data or WiFi. Although other cameras on the markete have this feature, Reuters hypothesizes that Samsung's "financial and marketing clout" could make it a threat to the Japan-dominated digital camera market.
Samsung is the global leader in televisions, smartphones and memory chips.
Chinese Hackers Single Out American Software Company
Bloomberg tells the story of Solid Oak Software in Santa Barbara, Calif., which was the target of "relentless" cyberharassment from Chinese hackers.
The attacks reportedly began less than two weeks after Brian Milburn, who heads the company, publicly accused China of appropriating Solid Oaks' parental filtering software for a national Internet censoring project. The attacks ended only after Milburn settled a $2.2 billion lawsuit against the Chinese government and numerous computer companies.
In the meantime, however, Bloomberg details a sordid, non-stop series of attacks: Hackers shut down Solid Oak's email and Web servers, gained access to sensitive files that caused havoc for the company's revenue, and used a webcam to spy on an employee.