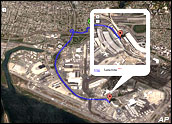 Instead of asking a stranger for directions, lost drivers may soon be able to turn to Google Maps for help as they fill up their gas tanks. Google has teamed with Gilbarco Veeder-Root, a commercial fueling supplier, to put Google Maps at the gas pump.
"Getting directions at the pump is safer than using Internet-enabled devices from the driver's seat and far more reliable than just asking a stranger," said Kirsten Paust, vice president of global retail systems at Gilbarco Veeder-Root.
"We believe consumers will prefer convenience stores that deliver useful information and ultimate convenience. Retailers who use these tools will make themselves more valuable to consumers and gain the competitive edge," she added.
No PC, Mac or Smartphone Necessary
The pumps, set to roll out to gas stations across the United States next month, include a live Internet connection that delivers information in real time. A small, color, touchscreen display allows lost users to view maps or search local listings by category (such as restaurant, hospital, gift shop, etc.) to locate the most convenient location.
Once they have an idea where they are headed, drivers can leave with directions in hand by printing them out using the pump's built-in receipt printer.
Despite its position as the leader in online ads, Google reportedly will receive no ad-related income from the service as it will not include any ads, though the company did not return calls seeking confirmation. Gas station owners, however, will be able to increase their take by offering merchants the opportunity to issue coupons.
"It's a brilliant idea," said David Chamberlain, an In-Stat analyst. "I mean, think about it: The gas station is the one place you always stop for maps and directions. And men are notorious for not wanting to ask for directions but they sure as heck will play with any computer device."
Light Bulb Moment
For Google, the deal brings additional publicity, said Karsten Weide, an IDC analyst.
"It puts their brand out there and shows they are cutting edge," he told TechNewsWorld.
Gas station proprietors will likely benefit from additional gas sales.
"It might promote a gas sale. Even if you don't need gas, you might buy a few dollars worth to get the map," Chamberlain told TechNewsWorld.
While a growing number of mobile handsets offer navigation tools and car manufacturers increasingly include Global Positioning Systems (GPS) in automobiles, only a small percentage of drivers use or have access to those types of devices.
"Only Sprint and Verizon Wireless are really doing [navigation] on a widespread basis in the U.S. right now. Penetration of personal navigation devices is also growing but not widespread," Chamberlain said.
"The sales numbers for smartphones — the only ones capable of giving you some Web browsing experience — they currently only account for 10 percent of units shipped," Weide told TechNewsWorld. "While it is true that many people have smartphones, many don't. Navigation in cars is in the same situation as the cell phone market. It's a fairly small number of people who have that."
All major Internet players, including Google, are making the move to bring users their services when they need it and where they need it, Weide said. With online traffic moving away from portals, those companies are trying to diversify.
"If you go back five years, 60 percent of Internet traffic happened on the big portals such as Yahoo. Today, it is about 15 percent. As traffic grows dramatically, turbocharged by the social networking craze, you see a segmentation of that. The portals are losing control of what is out there and that's why they are running really fast to acquire more inventory and that inventory is in the most unlikely places.
"This is about advertising and there is just a whole lot of potential advertising inventory out there that hasn't been used yet," he added. "It's a race to acquire and control as much advertising inventory as they can."