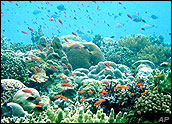 Google unearthed the latest version of its Earth mapping tool Monday at the California Academy of Sciences in San Francisco. Google Earth 5.0 adds a number of new features to the geo-mapping service, perhaps the most significant of which is providing some definition to the world's great bodies of water with Google Ocean.
Although the application had always included a representation of the Earth's oceans, they were simply blue expanses with occasional low-resolution shading to provide some depth, said John Hanke, director of Google Earth and Maps. The addition of Google Ocean adds more than just a representation of the ocean's depths. Rather, it provides users with much more detailed maps that go beneath the water's surface.
Also in the offing for the fifth iteration of Google Earth are historical maps that allow users to look into the past and view images and changes to the planet over the course of time. There is also a new 3-D Mars mapping feature and a new touring function that enables users to document and share their virtual journeys.
Mapping the Seven Seas
Google created Google Ocean over a three-year span with the help of a host of individual and organization partners, including the National Oceanic and Atmospheric Administration, the U.S. Navy, the National Geospatial-Intelligence Agency, the Japan Hydrographic Organization, Scripps Institute of Oceanography and General Bathymetric Chart of the Oceans.
With data provided by its scientific partners, Google was able to create dynamic images of water surfaces as well as 3-D representations of the terrain on the sea floor. It also includes 20 content layers, each containing information from leading scientists, researchers and ocean explorers from around the world. For instance, users can view the "Explore the Ocean" layer that contains photos and videos of ocean hot spots; take a National Geographic Magazine geo-quiz and check out overlays from its new Atlas of the Ocean, or view videos of expeditions by famed oceanographer Jacques Cousteau.
The addition of Google Ocean to Google Earth corrects an oversight when the company initially launched the application, according to Hanke.
"It was a serious omission on our part not to include a better treatment of the oceans when we launched Google Earth, and I'm very happy that we've been able to address that. We now have a good substrate for publishing and exploring data about the 'other' two-thirds of the planet," he explained.
Swimmin' With the Fishes
The addition of oceans makes Google Earth richer and more complete as an information resource, Greg Sterling, principal analyst at Sterling Market Intelligence, told TechNewsWorld.
"It also enables Earth to become a better teaching tool to students and users generally about the importance and role of the oceans in the planetary ecosystem. It's great that Google sought to include Ocean in Earth and to bring all these content partners together. It will help build awareness about climate change and its impact on the ocean. In addition, it's just a fun and interesting tool," he continued.
The addition will also help Google gain users for its Chrome Web browser, said Caroline Dangson, an IDC analyst.
"Oceans in Google Earth is a new attraction to lure more consumers to download the Google Earth desktop application, which conveniently includes Google's Chrome Web browser. The business goal here is for Google to keep gaining market share. For example, many of the ocean sites link back to YouTube videos," she told TechNewsWorld. Google owns YouTube.
Business aside, Dangson said, Google Earth still serves as a great learning tool for curious minds about Earth sciences. "The depths of the oceans are definitely one place few of us would see otherwise."