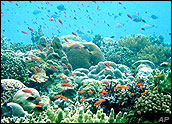 Having already mapped Antarctica and the North Pole, Google has added panoramic images of coral reefs on Google Street View.
As the BBC reports, Google gathered the materials through the Catlin Seaview Survey, a project designed to study the health of coral reefs. Scientists with the Catlin Group, based in Bermuda, used a trio of wide-angle lenses snapping 24-megapixel photos from each lens.
Among the coral reef added to the maps: Australia's Great Barrier Reef, Hawaii's Hanauma Bay and the Philippines' Apo Island.
Tough Times in Brazil
Google's top executive in Brazil, Fabio Jose Silva Coelho, faces arrest over YouTube videos attacking a local mayoral candidate, according to The Guardian.
Google is appealing the arrest order, which was reportedly issued after the company failed to take down the malicious videos. According to The Guardian, the videos violate the 1965 Electoral Code banning campaign ads that "offend the dignity or decorum" of a candidate.
Speaking on behalf of Google, a spokesman in Brazil said the company is not responsible for content posted to YouTube.
This saga in Brazil comes on the heels of the ongoing headache stemming from the infamous video featuring Muhammadthat is believed to have caused violence in the Arab World.
Earlier in September, a court in the Brazilian state of Paraiba ordered the arrest of a different Google exec when the company didn't take down a similar mock-the-mayor video. That order was overturned.
iOS 6 Has Fresh China Maps
Apple's newest mobile operating system, iOS 6, has a different — and better — set of maps for China, according to The Wall Street Journal .
Having ditched Google Maps, Apple built its own mapping software for the new iPhone 5, which was unveiled in a handful of countries last week. According to The Journal, the China maps have more detail than most other countries, aided by the fact that they were provided by AutoNavi Holdings, a Chinese mapping company that has a 45 percent market share on mobile mapping in China.
In a deal first announced in June, Apple's iOS 6 maps came from Netherlands-based navigation system maker TomTom. Those maps have taken serious grief from critics, who have been quick to point out that the maps are sans basic landmarks and public transportation stops.
The China maps, too, have their own problems. According to The Journal, searches for landmarks and business often yield bogus results, plus the map is only for China — the rest of the world is blacked out because the AutoNavi maps have not yet been integrated with the TomTom maps.
Germany To Address High-Frequency Trading
Germany announced that it intends to slow down the computer-driven, market-rattling practice of high-frequency trading.
According to The New York Times, Germany is expected to approve draft legislation Wednesday imposing new controls on high-frequency trading — including a requirement that all high-frequency traders be licensed, as well as limits on the numbers of orders that may be placed with a corresponding trade.
The law corresponds with similar legislation being discussed by the European Union in Brussels.
Good News for RIM — No, Seriously!
Beleaguered BlackBerry maker Research In Motion announced Tuesday that its BlackBerry subscriber base rose from 78 million to 80 million, sending its shares north more than 3 percent.
According to Reuters, analysts had expected RIM to begin losing subscribers who switched to Samsung and Apple devices. While it has indeed lost some ground in North America, Canada-based RIM has made gains in emerging markets, where the company's lower prices make it an attractive option.