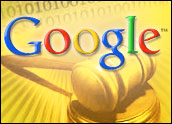 Google is expected to agree to changes in the way it displays search results, a move that will likely allow it to skirt an antitrust investigation in the U.S. However, things are still unresolved between Google and the European Commission.
The Guardian reports that the Federal Trade Commission is expected to announce a deal this week that will end the controversy over whether Google used its market dominance to cripple competition.
As it nears a resolution in the U.S., Google is reportedly still negotiating with European Commission antitrust chief Joaquin Almunia. The EC is apparently more concerned with Google's position because in Europe it commands a 95 percent share of the search engine market, compared with 65 percent in the U.S.
If Google and the EC don't strike a deal, as appears to have happened in the U.S., then Google could be compelled to tailor its search results "according to EC strictures," writes The Guardian.
Germany Pushes Facebook to End Real-Name Policy
A data protection body in Germany has ordered Facebook to cease its policy of forcing users to register with their real names, according to the BBC.
The policy reportedly violates German laws that allow people to use pseudonyms online, according to the data protection agency in the northern Germany state of Schleswig-Holstein. The agency has demanded that Facebook allow fake names immediately, adding that the company has two weeks to challenge in German court.
Facebook, which has a policy of removing accounts with fake information, has said it would fight the decree and that its naming policy complies with European data protection rules.
Canada Anti-Piracy Forces Zero In on ISP
Users of the Canadian Internet service provider TekSavvy will be "the first unlucky targets" of a BitTorrent crackdown spearheaded by Voltage Picture.
Torrent Freak reports that the Canadian anti-piracy company Canipre has been collaborating with rights holders to monitor BitTorrent networks to determine who is sharing files illegally. Canipre is partnered with Voltage Pictures, which in 2010 launched an anti-BitTorrent campaign in the U.S. targeting those who shared the film "The Hurt Locker." The studio is trying to duplicate that fight in Canada.
About 2,000 TekSavvy users were confirmed to have shared Voltage films. The company has asked the ISP to fork over personal details of the alleged offenders. TekSavvy initially refused, but the company has now decided not to fight the request.
Canada is engaging in some of the most ambitious anti-BitTorrent measures to date.
Iran Claims to Find New Malware
Having been the apparent target of an unprecedented malware attack earlier this year, Iran is now claiming to have discovered a new "targeted data wiping malware."
Naked Security reports that while the malware identified by Iran does indeed wipe files from computers, it is not all that clear why Iran believes it was specifically targeted at the country. This most recent malware bears no resemblance to other sponsored attacks, including the famous Flame attack, Naked Security said.