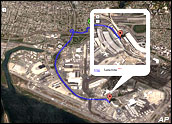 Google on Wednesday announced version 2.0 of Google Maps for mobile featuring a beta version of its new "My Location" service that serves as an alternative to GPS technology.
Rather than relying on global positioning satellites for identifying a mobile user's location, My Location uses cell tower ID information to provide users with their approximate location, helping them determine where they are, what's around them and how to get there, Google said.
The result is that users who don't have GPS-enabled mobile phones can still take advantage of the added speed and convenience afforded by location information.
Anonymous Information
GPS functionality is supported on fewer than 15 percent of the phones expected to be sold in 2007, according to Google. What that means is that location-based functionality in a service like Google Maps for mobile has been available to only the minority of users with GPS phones.
Now, My Location takes information broadcast from cell towers and sifts it through Google-developed algorithms to approximate a user's current location on the map. It is available on most smartphones, Google said, including all color BlackBerry devices, all Symbian Series 60 3rd Edition devices, most Windows Mobile devices, newer Sony Ericsson devices, and some Motorola devices.
The location approximation is anonymous, so no personally identifiable information is gathered and no location data are associated with personally identifiable information. The feature can also be easily disabled by anyone who prefers not to use it.
For users who do have GPS cell phones, My Location can actually complement it, Google said. "My Location kicks in faster than GPS in most cases, so you can access your location even faster on the map," wrote Mike Chu, software engineer on the Google mobile team, on the team blog. "It also works reliably indoors (unlike GPS) and doesn't drain your phone battery at the rate that GPS does."
Of course, the technology is still in beta form, which means that the service's accuracy and coverage may vary, Chu added.
Wide Variety of Platforms
Google Maps for mobile was launched in the United States in late 2005. It allows users to view interactive maps and satellite imagery, find local businesses, get point-to-point driving directions and view live traffic updates from their cell phones.
Google Maps for mobile is available on a wide variety of platforms, including all color BlackBerry devices; Windows Mobile devices with Windows Mobile 2003, 5.0 and above; Symbian Series 60 3rd Edition devices; and Palm devices with Palm OS 5 and above. Millions of people in more than 20 different countries around the globe use the service, Google says.
"What this does is provide local search, based on your location, to a wide variety of phones without the need for a GPS," Chris Hazelton, senior analyst for mobile device technology and trends with IDC Research, told TechNewsWorld. "They're expanding what's already free on a number of devices that already have a GPS."
No Route Assistance
What it won't do, however, is provide route assistance or turn-by-turn directions, which are generally reserved for richer applications such as TeleMap and VZ Navigator, Hazelton pointed out. However, "that's not what Google Maps was really designed for," he added. "It's more for searching around you, and they've reduced the number of steps that takes."
The technology could prove attractive for people who may not see much value in investing in a GPS device, Rebecca Wettemann, vice president of research at Nucleus Research, told TechNewsWorld. "The big questions will be how close you can get and how reliable it will be."
Just how accurate it needs to be, however, is an open question.
Measuring by Blocks
Using cell towers for triangulation may not be quite as accurate as a GPS, but "accuracy is not really an issue because more than likely you're not looking for exactly where are — more for what's around you," Hazelton said. "You're looking in city blocks — not feet."
Overall, Google's offering of the new service is "another sign that the company is taking a completely different look at technology and how people get value out of it," Wettemann said.
"This certainly will drive the GPS folks to look at their pricing," she added. "If I can get 90 percent of the way with Google and an existing phone, I may well just do that."