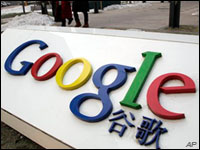 Google's years-long spat with Beijing just began a new chapter.
The company has begun encrypting searches made by people in China, where Google has long run afoul of regulations designed to keep a tight lid on searches deemed inappropriate.
Google's encryption of searches in China reportedly will prevent the "Great Firewall of China" from detecting when users search for scandalous terms like "Tiananmen Square" or "Dalai Lama." China could just out and block Google altogether, but short of doing that, the country likely will have trouble controlling Google searches as it has in the past.
"It will be a huge headache for Chinese censorship authorities," said Percy Alpha, cofounder of GreatFire.org.
Google couched the move as part of its global expansion of privacy technology designed to prevent surveillance by intelligence agencies, police and hackers.
In that sense, it's not a shot across Beijing's bow. Given the history between Google and China, however, there is indeed an element of theater.
Google moved much of its Chinese operation to Hong Kong in 2010 after getting grief from Beijing about halting its self-censorship in the county.
In 2011, hackers in China are believed to have targeted Gmail users, and in 2012, China temporarily blocked all sorts of Google services.
[Source: The Washington Post]
China's Central Bank Nixes Bar Code Scanning
China's central bank, the People's Bank of China, on Friday decreed that payments made by scanning a bar code with mobile devices must be stopped.
There reportedly are concerns about the security of companies' verification methods.
Tencent and Alibaba, two of China's top Internet players, reportedly received no notice prior to the suspension of the payments. Tencent's shares slid more than 6 percent after the announcement, while shares of China CITIC Bank, which had partnered with Tencent and Alibaba to use the now-prohibited payment process, were suspended after dropping 7 percent.
[Source: Reuters]
Messaging App Crackdown in China
At least a dozen WeChat accounts, most of which had posted political content, have been abruptly blocked.
China-born WeChat, which is roughly akin to WhatsApp, is — like all things Internet in China — subject to the whims of Beijing's Web police. While the blocked accounts still exist, the content has been removed and replaced with a note saying that the accounts violated WeChat policies.
WeChat enables people to create groups, so anti-Beijing sentiments could transcend a one-on-one chat.
China upped its assault on electronically transmitted rumors, dissent and general shenanigans last fall. [Source: Tech In Asia]
Apple Favored, if Not Purchased, in Emerging Markets
Apple is the most coveted mobile phone brand in emerging markets, according to a report from marketing firm Upstream and research outfit Ovum.
Samsung, which topped a similar Upstream report last year, experienced a slight decline, dropping from 32 percent to 29 percent, opening the door for Apple to claim the title of most preferred device.
The iPhone 5c, released in September, is less expensive than traditional Apple devices, which perhaps could have helped the company's spike in emerging markets.
[Source: Bloomberg]