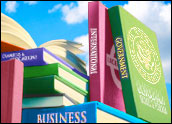 Google is working on a platform to allow users to download the entire content of books in a format that they could read on their computers or maybe even mobile devices, according to a report in this week's Sunday Times.
Google officials confirm that the company is continuing to work on online access, but assert that they have not announced anything in the realm of what are commonly known as e-books. "We're working with our publisher partners to develop new ways to help them provide online access to their books," Megan Lamb, a spokesperson for the Mountain View, Calif., company, told TechNewsWorld.
The Times report came on the heels of the Friday announcement that the University of Texas at Austin has joined the Google Books Search initiative aimed at making the contents of books searchable online. The addition of the University of Texas — the fifth largest academic library in the United States — comes as a coup to the Google Books project, which has been beleaguered by controversy and lawsuits since it was announced in 2004.
Another Million Books
The University of Texas Libraries will give Google access to more than a million books and collections. Included in that collection is the world-renowned Nettie Lee Benson Latin American Collection of literature on Brazil, Chile, Peru, Central American countries and a wealth of material on early Latin American history.
Harvard University, Stanford University and the New York Public Library are among other participants in the Google Books Library Project.
"Intellectual discovery is at the heart of the scholarly research process," said Fred Heath, vice provost and director of libraries at the University of Texas.
"The best collections of information are only as useful as the quality of the tools available for discovering and accessing that information," he added. "Joining with Google's Book Search program will mean that the intellectual content of our collections are discoverable by a much wider range of scholars and students."
Varying Degrees of Access
Through Google Book Search, anyone will be able view, browse and read the public domain documents at University of Texas as well as other participating libraries. For books protected by copyright, users can see basic background such as the book's title and the author's name, a few lines of text related to their search and information about where they can buy or borrow a book.
Outside libraries, Google's Book Search effort can give users access to full text, if the book is out of copyright or the publisher has given permission; a limited preview; a snippet; or, at minimum, basic bibliographic information about the book along with links to find it at a bookstore or library.
The Google Book Search project has brought outcry from authors and publishers, who have argued it could infringe upon copyrights on a massive scale. The Association of American Publishers and the Authors Guild have both filed suit against the Internet search giant.
Books a la BlackBerry?
With the addition of online access, users may be able to view book content from practically anywhere, perhaps even from devices such as the BlackBerry, the Times reported.
Other companies, such as Sony and Amazon.com, have e-book plans in the works, and the online platform will give Google users more options for reading Google Books content, company officials said.
"You may just want to rent a travel guide for the holiday or buy a chapter of a book," Jens Redmer, director of Google Book Search in Europe said. "Ultimately, it will be the readers who decide how books are read."
Indeed it remains to be seen how many users would even want to read books from their mobile devices. "It's not the greatest place to be accessing more than a short excerpt," noted Charlene Li, vice president and principal analyst for Forrester Research. "I'm not sure what the use would be."