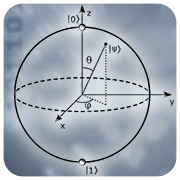 Google this week announced a hardware initiative to design and build new quantum information processors based on superconducting electronics. The effort is related to the launch last year of its Quantum Artificial Intelligence Lab.
Physicist John Martinis, winner of the 2014 Fritz London Memorial Prize, leads a group of scientists from the University of California at Santa Barbara who will collaborate with the Google team.
"This is very exciting that John Martinis' group will join the Google effort," said Raymond Laflamme, Canada Research Chair in quantum information and executive director for the University of Waterloo's Institute for Quantum Computing.
"John has been a leader in the way of building a quantum computer with superconducting qubits," he told TechNewsWorld. "This might well give a quantum computer on a timescale much shorter than what people had thought."
A 1,000-Qubit Processor
Google's Quantum Artificial Intelligence Lab, which is hosted by NASA's Ames Research Center, already houses a quantum computer from D-Wave Systems with the goal of studying how quantum computing might advance machine learning.
Now, "with an integrated hardware group, the Quantum AI team will be able to implement and test new designs for quantum optimization and inference processors based on recent theoretical insights as well as our learnings from the D-Wave quantum annealing architecture," explained Google Research Director of Engineering Hartmut Neven.
Google will continue to collaborate with D-Wave scientists and to experiment with the existing machine at NASA Ames, which is due to be upgraded to a 1,000-qubit Washington processor, Neven added.
Better Models
Google's interest in quantum computing stems from its belief that the technology may be the key to solving some of the world's most challenging computer science problems, especially in machine learning.
"Machine learning is all about building better models of the world to make more accurate predictions," Neven said when the Quantum Artificial Intelligence Lab was announced.
"If we want to cure diseases, we need better models of how they develop. If we want to create effective environmental policies, we need better models of what's happening to our climate. And if we want to build a more useful search engine, we need to better understand spoken questions and what's on the Web so you get the best answer," he said.
Traditional computers don't handle such problems well, Neven pointed out, but quantum computing "lets you cheat a little" on the way to an optimal solution.
A 5-Qubit Array
Quantum computers are thought to have the potential to be millions of times more powerful than today's supercomputers are, though that supposition isn't without its skeptics.
Nevertheless, Martinis' UCSB team earlier this year advanced quantum computing significantly by demonstrating a new five-qubit array.
"Qubits" — short for "quantum bits" — are a critical part of quantum computers that take advantage of the multiple states of quantum phenomena.
New Design
"Though quantum computing is still in its infancy, its potential is significant enough to justify sustained effort and investment," said Charles King, principal analyst with Pund-IT.
Given that some early systems have not performed as well as hoped, Google's investigation of a new processor and system design seems warranted, he told TechNewsWorld.
Security applications are one of the most oft-cited uses for quantum systems, King pointed out. In addition, "the polynomial improvements in performance projected for these systems compared to traditional solutions would make them valuable for performing a variety of simulations, including quantum physical processes."
New Process
"To have an operating environment able to take advantage of quantum effects would be amazing," said Roger Kay, founder and president of Endpoint Technologies Associates.
"The ability to take account of parallel logical paths would make some computing problems more solvable, or solvable closer to real time," he told TechNewsWorld.
The development cycle "will be very long," Kay added, and "the engineering is going to be overwhelming to get something like this into production at a reasonable cost — a whole new semiconductor process that has yet to be created."