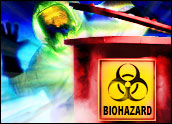 Greenpeace International has taken video game console makers to task for using hazardous materials in the devices, releasing a detailed report Tuesday.
Test results in the "Playing Dirty" report indicated that Nintendo, Microsoft and Sony have moved away from or limited their usage of individual toxic compounds in certain materials in the consoles.
However, Greenpeace contends that the companies could go greener and suggests that the manufacturers simply look at each others' products for clues on how each could remove the chemicals from their respective devices.
The goal is to bring attention to the problem so that these companies will change their policies and practices, Casey Harrell, toxics campaigner for Greenpeace, told TechNewsWorld.
"We've seen companies change their policies and phase out certain chemicals, and we haven't seen any loss in sales for these products," he said.
Toxic Playthings
The environmental group tested the components in the Nintendo Wii, Sony PlayStation 3 Elite (PS3) and Microsoft Xbox 360, and found they contain various toxic compounds such as polyvinyl chloride (PVC), phthalates, beryllium and bromine, which are found in fire retardants.
The levels of all the chemical components were within legal limits set by the European Union's hazardous compound legislation (the Restriction of Hazardous Substances Directive) in terms of regulated heavy metals. However, Greenpeace said it's concerned about the toxic chemicals and materials that remain. Also, the organization argues, classification of the consoles should be changed from electronic devices to toys, for which the EU and U.S. have much tighter restrictions.
The Xbox 360 and PS3 both contain very high levels of phthalates, a compound used to soften plastic, according to Greenpeace. Research has shown that one form, DEHP, interferes with sexual development in mammals, particularly males — humans included. The EU has banned another, DiNP, found in the Xbox 360 alone, from use in toys and childcare products that can be placed in the mouth.
While no traces of beryllium alloy were found in the Nintendo Wii, tests on both the PS3 and Xbox 360 showed the substance in the electrical contacts for the consoles. Dust and fumes generated by recycling or processing devices containing beryllium can lead to chronic beryllium disease, an incurable lung ailment.
Analysis also found high levels of bromine in components for all three gaming systems. The highest weights were discovered in the PS3 and Wii, with 13.8 percent found in the PS3's fan housing and 12.5 percent in the Wii's housing material. Bromine found in brominated flame retardants is a persistent, or eternal, pollutant produced when incinerated or destroyed at high temperatures.
PVC was also present in high levels in the Xbox 360 and PS3. Like phthalates, the compound is used in plasticizers or softeners. Another persistent chemical, the danger comes once an object containing the toxin has entered the waste stream and is being processed.
"With the flame-retardants and phthalates, everyone is exposed to them from multiple sources every day. The level of exposure to them can cause health problems. What we're looking at is getting these chemicals out of common products like video consoles, furniture and wherever else they are used," said Caroline Cox, research director at California's Center for Environmental Health.
Waste Woes
The risk from these chemicals is the highest for those who come into most contact with them, according to Harrell.
"Those are the people who make them or are disassembling them on the waste side. The way that these are discarded — the U.S. does not have a law that prohibits the exportation of waste to other [countries]. A lot of our cell phones, laptops, TVs and everything end up in China, India and increasingly parts of Africa, where people are just burning it to dissemble it and get scrap pieces of copper or tin," he explained.
The process allows the release of the most toxic chemicals into the air, which could cause workers to grow ill as a result of constant exposure.
Using a PS3 at home very likely does not pose a significant threat, Harrell noted. What Greenpeace is working toward is greater responsibility from electronics manufacturers. Alternatives for many of the harmful chemicals already exist, according to the organization.
"We're not trying to yell 'The sky is falling, and if you touch this you're in grave danger,'" he said. Rather, the ones who are in danger are the workers in relatively poor regions who deal with the devices after they are thrown out.
Both Cox and Harrell recommend that console owners keep their systems as long as possible. When it's time to dispose of them, the games should be discarded responsibly and not thrown into the garbage and taken to a landfill.
Preferably, however, Greenpeace would like to see the console makers institute a purchase, return and recycle program through which the companies would receive old and broken devices, remove anything of value or that could be recycled, and then responsibly dispose of any toxic elements.