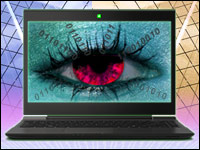 From Algeria to Bangkok to Atlanta… a three-year manhunt… a laundry list of suspected crimes. This one's interesting.
Hamza Bendelladj, an Algerian national known by his alias "Bx1," appeared in an Atlanta court last week, where he faced a 23-count indictment stemming from his alleged participation in the cybercrime consortium responsible for hacking software known as "SpyEye."
Bendelladj, 24, was the target of a three-year manhunt that ended in a Bangkok airport in January. Among other things, he stands accused of computer and bank fraud resulting from SpyEye, a program that lets hackers access other people's bank accounts over the hackers' own computers. Bendelladj is also accused of providing servers to control hijacked computers.
Available for as little as US$2,000, SpyEye is believed to have been responsible for the theft of tens of millions of dollars from bank accounts in the U.S. and Europe.
Bendelladj will plead not guilty, according to his lawyer. Prosecutors have said that he is a flight risk and requested that he be held without bail.
Authorities were able to nab him thanks in part to the fact that he used a pair of email addresses that were linked to his Facebook account. Whoops.
[Source: Bloomberg]
Minister: It Doesn't Need to Be ALL French
A week after a French government minister put the kibosh on Yahoo's plan to buy a majority stake in Dailymotion, a video-sharing website operated by France Telecom, France's junior minister for the digital economy told French media that the website need not be entirely French-owned.
Yahoo's talks to acquire a 75 percent stake in the company were scuttled, according to industry minister Arnaud Montebourg, because Yahoo planned to "devour" smaller competitors (like Dailymotion).
Those comments were walked back a little bit by the nation's junior minister for the digital economy, Fleur Pellerin, who said, "We don't live in a closed economy. The digital economy is not a Gallic village."
The specs of the Yahoo deal would indeed have led to the disappearance of Dailymotion, Pellerin concurred, but she added that France's "gems are struggling to grow. They need help." [Source: Reuters]
Tech Companies Enter Immigration Debate
Senior execs from Silicon Valley, including Mark Zuckerberg and LinkedIn's Reid Hoffman, helped bankroll a recent immigration advertisement produced by a group called "Americans for a Conservative Direction."
Tech heavyweights' foray into the immigration debate — and moreover their alignment with a conservative group — may be surprising, given the fact that top employees at Silicon Valley companies are historically left-leaning. But the immigration bill currently in congress would enable them to employ foreign engineers, which would be a boon.
Thus, many tech companies are doing what they can to make sure the law gets passed, part of a trend that has seen tech companies increasingly willing to get involved with politics. For instance, Facebook's lobbying budget ballooned from $351,000 in 2010 to $2.45 million in the first quarter of 2013; Google spent $18 million last year.
[Source: The New York Times]
Google Gives Nod to Palestine
Google changed the tagline on the Palestinian version of its homepage, google.ps, from "Palestinian Territories" to "Palestine."
In November, the UN dubbed Palestine a "non-member observer state," a move opposed by the U.S. and Israel. Google's move, while less formal, could be construed as another declaration of Palestine's viability as an independent entity, even if not an independent state.
Google has ruffled feathers with its labeling before. Iran, for instance, threatened to sue over Google Maps' non-labeling of the "Persian Gulf."
[Source: BBC]