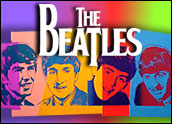 All together now: The Beatles are getting their own video game.
If you're of a certain age, then the idea of playing a "Rock Band"-esque game featuring the Fab Four's music will almost certainly make you twist and shout. The big question for Harmonix and MTV Networks — the makers of "Rock Band," which on Thursday announced a partnership with Apple Corps — is this: Will younger gamers raised on Metallica and Pearl Jam want to play a '60s-based game eight days a week, or will they simply let it be?
Digital First
OK, we are now officially out of Beatles puns. Besides, it's hard to keep up with the actual press release: "Apple Corps Ltd., MTV and Harmonix Come Together for Unprecedented Deal: Exclusive Agreement Set to Bring The Beatles Music to Fans for the First Time in Interactive Form Here, There and Everywhere in 2009."
Company officials said during a teleconference that the game is still in development but will not be a part of the best-selling "Rock Band" franchise. No price has been set yet, and Harmonix hopes to have it ready by Christmas 2009.
Sir Paul McCartney, Ringo Starr, Yoko Ono and Olivia Harrison give their blessings to the project and are still providing creative input, and Giles Martin, son of legendary Beatles producer George Martin is serving as the game's music producer. In the press release, fans are promised an "experiential progression through and celebration of the music and artistry of the Beatles."
Music War
With the agreement, the battle of the bands is now joined between Harmonix's "Rock Band" and Activision's "Guitar Hero," the two franchises that have helped launched music-themed gaming to retail success. Both games sold about US$1.7 billion worth of units in 2007 and are expected to top that this year, thanks to new editions "Rock Band 2" and "Guitar Hero: World Tour," according to NPD.
"I remember four years ago when I was talking to one of the founders of Harmonix," Michael Cai, director of digital media and gaming for Parks Associates, recalled for TechNewsWorld. "I don't think the company's founders themselves envisioned just how popular these games have become. They are already trumping the sports genre on the consoles."
The Beatles may be one of the top music groups of all time, with its influence permanently ingrained in the world's pop culture, but will that translate into success in an industry where the demographic sweet spot is 25- to 35-year-olds? "I think because the gamer audience has diversified so much, you have a population of gamers who not only grew up with the Beatles but also with Atari," Cai said. "The popularity of 'Guitar Hero' is partly because of these gamers, not just the power gamer segment."
Yet it's that fragmenting of the gaming audience that signals "game on" for the companies that may be looking to license music from top bands for their particular franchises. "It's a nice win for MTV and good for consumers, but it doesn't end the war," Michael Pachter, analyst for Wedbush Morgan Securities, told TechNewsWorld.
Pachter doesn't anticipate an Activision spending spree because of the Beatles catalog acquisition by Harmonix. "Activision doesn't play that way. It's not their style. And they're controlled by the same company that controls Universal Music Group. They've got access to more exclusive titles than MTV."
Yet with Aerosmith, AC/DC, Metallica and the Rolling Stones having already signed their own deals with either Harmonix or Activision, the digital land rush for new "Rock Band" and "Guitar Hero" playlists seems to be under way. "If you look at what's going on in the game console industry, they want some exclusive content to differentiate. I think most of the record companies or artists will probably want to be on both platforms, but if the terms are right, some of the bands and IP (intellectual property) owners will probably go with one of the two."
Not Exactly Guitar Rock
Pachter brings up an interesting point: If you're into pretend-guitar-playing, would the Beatles be your first choice? True, their music stands the test of time — John Lennon and Paul McCartney have already won placement in the "genius songwriting" column — but aside from "Helter Skelter" or some later-era compositions, where's the appeal for wannabe rockers?
"Personally, I think Eric Clapton would be a bigger catch than the Beatles," Pachter said. "Not that the music isn't good, but it's not branded as guitar music. For 'Rock Band' maybe that makes sense — you've got vocals and drums and other stuff, but if it's for 'Guitar Hero,' Eric Clapton makes a lot more sense."
So does that mean gamers will have to spend more money with a Beatles game, since it will be a standalone product from "Rock Band?" "I wasn't sure whether you're going to be able to leverage the peripherals you've already purchased, or spend another 200 bucks or whatever to buy a whole new set of peripherals," Cai said.