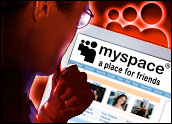 Some legal minds are getting together to see what can be done to make sure that social networking Web sites like MySpace are exclusively kids' space.
Researchers at Harvard Law School's Berkman Center for Internet and Society have been chosen to head up the Internet Safety Technical Task Force — at the behest of 49 state attorneys general — to look into possible technology-aided barriers to throw in front of predators and online bullies looking to hang out on Web sites the minors frequent.
MySpace, a property of News Corp., initiated the task force as part of an agreement it reached with 49 state AGs — Texas was not part of the deal — in January.
Age, ID Verification System
Seen as central to the task force's purpose is the development of technology protocols that will verify user ages and identities.
Among the Internet firms on board with the task force are Google, Microsoft, Yahoo, Time Warner and Facebook.
"The safety concerns posed by the Internet are part and parcel of the safety concerns that arise in human interactions in the physical world," said John Palfrey, the Berkman Center's executive director. "These concerns are not unique to any one service or technology platform; they are shared by the companies that provide Internet services and the individuals who use these services."
Watchdog groups that focus on free speech issues also will be part of the task force. Those groups will carry a considerable skepticism into the discussions, said Brock Meeks, spokesperson for the Washington-based Center for Democracy and Technology, which will participate.
"We're glad to be at the table, but we do so with a good amount of skepticism that this kind of solution can be made to work," he told TechNewsWorld. "But that opens up a whole host of legal and policy issues that need to be addressed."
For one thing, no one is certain that an age-verification technology can be developed without infringing on users' rights, Meeks noted. "How do you make a bulletproof age-verification policy without violating constitutionally protected rights? How does a piece of technology know who's at the other end? How can an electronic gatekeeper know whether I'm a minor or adult? Every time I go to a site, do I have to prove who I am? You may be limiting my rights because you're putting a burden on my ability to access information I have every right to access."
Careful Planning
Any technological barriers thrown in front of predators will require elaborate planning, Robert Cox, president of the Media Bloggers Association, told TechNewsWorld. "There are already laws on the books intended for purposes this task force is to address."
Nevertheless, predators are still going online. "I don't really have much of a sense that this is ultimately going to be very successful because the people seeking out minors [and] making inappropriate contacts have the motivation and means to circumvent or otherwise spoof the tech safeguards that might be put in place," he added. "If you create an online arena intended for children only, it's kind of like telling pedophiles where the fish are in a lake."
Static — rather than dynamic — Internet protocol addresses may play a role in the ultimate solution. "Generally, AOL and other ISPs own thousands of IP addresses that connect to the Internet," Cox commented. "When you go online, they assign one of them for you to use. Every time you make a connection, they're assigning you one of their IP addresses, and you're not going to have the same IP address each time."
Under a static-address system, a user will always operate on the same IP address. "That makes them easier to track down," Cox concluded.