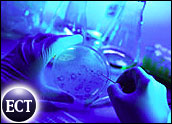 A new health-mapping system crawls the Web's disparate news sources and aggregates the information it finds there into a unified view of the world's health.
HealthMap, which was launched by a team of researchers from Children's Hospital Boston and Harvard Medical School, provides a comprehensive view of the current global state of infectious diseases and their effect on human and animal populations by combing a variety of data sources across the Web. It is freely accessible to users around the world.
Through an automated text-processing system, the data is aggregated by disease and displayed by location for user-friendly access to the original alert. The site was originally created by infectious diseases researcher John Brownstein and research software developer Clark Freifeld, both of the Children's Hospital Informatics Program.
An article on HealthMap was published Tuesday in PLoS (Public Library of Science) Medicine. Support for the work came from the National Library of Medicine, the National Institutes of Health, the Canadian Institutes of Health Research and Google.org.
Filling in the Gaps
While developed nations continue to improve their electronic disease surveillance capacities, developing nations — which tend to be most vulnerable to emerging disease threats — still lack an essential public health information infrastructure, Brownstein, Freifeld et al. wrote in their paper.
"The existing network of traditional surveillance efforts managed by health ministries, public health institutes, multinational agencies, and laboratory and institutional networks has wide gaps in geographic coverage and often suffers from poor and sometimes suppressed information flow across national borders," they explained.
Meanwhile, key information can be found in Web-accessible information sources such as discussion sites, disease reporting networks and news outlets, they added.
For example, early indications of the severe acute respiratory syndrome (SARS) outbreak in Guangdong Province, China, came in November 2002 from a Chinese article that alluded to an unusual increase in emergency department visits with acute respiratory illness, the authors noted. This was followed by media reports in a variety of nonofficial sources.
"These resources can support situational awareness by providing current, highly local information about outbreaks, even from areas relatively invisible to traditional global public health efforts," they said.
'Very Creative Use'
"I think this is another example of data mining that is very powerful and being put to very creative use," Greg Sterling, founder of Sterling Market Intelligence, told TechNewsWorld. "This promises to be a very novel and valuable system of identifying disease outbreaks."
Operating since September 2006, HealthMap is a multistream, real-time surveillance platform that continually aggregates reports on new and ongoing infectious disease outbreaks. The system performs extraction, categorization, filtration and integration of these reports, facilitating knowledge management and early detection.
HealthMap is designed to provide a starting point for real-time intelligence on a broad range of emerging infectious diseases for a diverse range of end users, from public health officials to international travelers, the authors noted. The system currently serves as a direct information source for approximately 20,000 unique visitors per month, as well as a resource for libraries, local health departments, governments and multinational agencies.
Information Aggregator
HealthMap currently collects reports from 14 sources, which in turn represent information from more than 20,000 Web sites around the world. Internet search criteria include disease names (scientific and common), symptoms, keywords and phrases. The system collects an average of 300 reports per day, with the majority acquired from news media sources.
Users of HealthMap can see where more than 50 diseases have been reported around the world, who is reporting them and how "hot" an outbreak is based on the number of reports. By drilling down on content and city or narrowing in by disease, they can also read what has been reported in the last 30 days.
"This kind of thing could be particularly important in identifying a new disease that's quickly reaching global proportions," added Rob Enderle, president and principal analyst with Enderle Group. "The disease could be small in many places, and once it gets big, it could be too late to stop it."
In other words, Enderle told TechNewsWorld, "this falls into the 'saving the race' category of news."