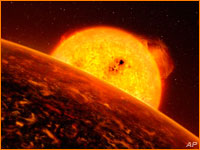 Planetariums may date back to the far reaches of recorded time, but the first widely known example — an ancient cast-metal globe made by Archimedes to predict the movements of the planets — now seems to have little in common with the technological marvels that have become widespread today.
Rather than focusing on planets and predictions, today's planetariums are experiential wonders that immerse the visitor in the starry skies and do their best to bring the distant heavens down to Earth for closer inspection.
Technology is what now makes it all happen, of course, with the result that new updates and additions are constantly making the experience even better and more realistic.
'The Most Appealing Technologies'
"Since there are a few tens of millions of visitors to planetariums and science centersin the U.S. every year, it is important for the programming at these informal education venuesto both reflect some of the latest scientific findings, and to use the most appealingtechnologies," Mario Livio, a senior astrophysicist with the Space Telescope Science Institute, told TechNewsWorld.
"For many, visits to such planetariums may represent their only encounters with science," Livio added. "With 3D imaging reaching now routinely to movie theaters and even home TVs, science centers must stay on the cutting edge of attractiveness, in terms of both content and method of delivery."
Ready for a look at some cutting-edge examples? These three venues may just epitomize the latest and greatest in planetarium technology today.
Boston's Charles Hayden Planetarium
Earlier this year, Boston's Museum of Science celebrated the 52-year anniversary of its Hayden Planetarium by unveiling the result of a yearlong, US$9 million renovation to the venue, which aims to introduce a new generation of educational programming and arts and entertainment experiences.
The crown jewel of the newly revamped planetarium is a state-of-the-art Zeiss Starmaster with custom-built optics that recreate a stunningly realistic night sky — its fiber optics enhancing the size and infinitely adjustable brightness of more than 9,000 stars.
The device — one of only two in the United States, and the only one on the East Coast — features brand-new scintillation capabilities that can replicate the flickering of the stars with true-to-life precision.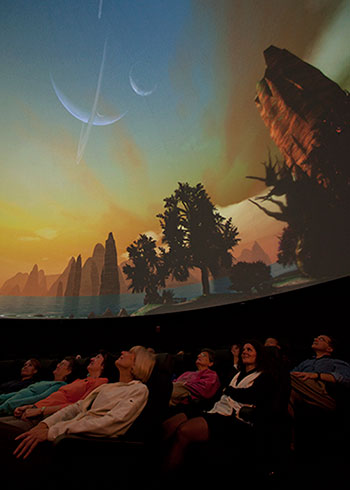 An audience at the newly transformed Charles Hayden Planetarium at the Museum of Science enjoys a scene from the Museum's own astronomy show, Undiscovered Worlds: The Search Beyond Our Sun. (Credit: Michael Malyszko)
Perhaps even more breathtaking is that the Starmaster can go forward and backward 10,000 years in just a few seconds using computer-controlled independent planet projectors.
Unlike the planetarium's old, two-ton Zeiss Mark VI, the new rotating star simulator is compact, standing just eight and a half feet tall with a lens-covered starball 30 inches in diameter.
The Hayden Planetarium's new Sky-Skan Definiti System, meanwhile — powered by DigitalSky 2 software and Sony SXRD 4K Digital Video Projectors with 4,000-pixel resolution — enables the creation of spectacular original programming.
The technology can be used not only to simulate space travel and explore global climate change, but also to let visitors peer back at Earth as only astronauts have — then fly out of the Milky Way past other galaxies, immersed in views of anywhere in the known universe, modeled on the latest scientific data from satellites and observatories.
"We hope that audiences will leave the museum full of wonder and an enlightened sense of their place in the universe," said Dani LeBlanc, the planetarium's show producer.
Chicago's Adler Planetarium
Coming this summer, meanwhile, is the grand debut of a new, immersive space experience at Chicago's Adler Planetarium, which dates back to 1930. Called "Deep Space Adventure," the upcoming new show will take visitors onto the observation deck of a futuristic "starship," where they will be surrounded by the larger-than-life phenomena of the universe.
At the heart of Deep Space Adventure is the newly transformed 190-degree Grainger Sky Theater, which was designed specifically to enable visitors to explore space as if they were really there. The theater will project the largest single seamless digital image in the world, its makers say, with an ultra high-definition screen resolution of more than 8,000 by 8,000 pixels.
The current cinematic standard is 2,000 by 4,000 pixels.
On-screen imagery expands beyond the traditional 180-degree dome to thoroughly immerse the visitor, while special lighting effects in the floor complete a 360-degree experience.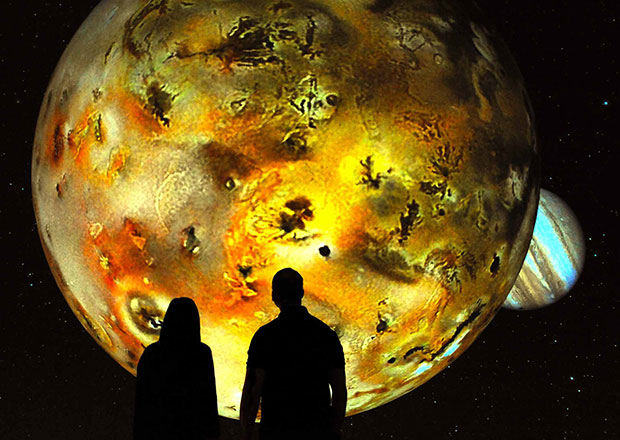 Adler Planetarium's Deep Space Adventure
"Whether you are a novice or veteran space explorer, the Adler's goal is to stimulate your curiosity and motivate further discovery," said Paul Knappenberger Jr., the planetarium's president.
Indeed, "this ability to experience space here on Earth is a great way to get kids excited, especially in the younger years," Jackie Blumer, a fourth grade teacher and team lead at NASA Explorer School Greenville Elementary, told TechNewsWorld.
"I think anyone who loves space and the idea of exploring it would think the experience would be awesome," Blumer added. "For those who don't have a few hundred thousand to buy a seat to fly in space, this might be the closest they get."
Montreal's New Rio Tinto Alcan Planetarium
Last but not least is the new, $46 million Rio Tinto Alcan Planetarium that's planned to open in Montreal in the fall of 2012.
Featuring not one but two star theaters, along with interactive laboratories and other immersive exhibits, the planetarium will also meet platinum LEED environmental criteria. Construction is slated to begin this summer, according to an article in the Montreal Gazette.
When it opens, the mostly underground venue will feature an inaugural show including videos, sounds and images, including some from NASA's Hubble Space Telescope. It, too, will reportedly offer the ability to portray the cosmos both back and forward in time.
'You'd Be Dead from Radiation'
It's important for planetariums to be realistic in their descriptions of the views on space they present, Paul Czysz, professor emeritus of aerospace engineering at St. Louis University, told TechNewsWorld.
"To say you're on a spaceship looking out the windows is a mind stretch," Czysz explained. "If you can see the black hole at the center of our galaxy, the reality is that by the time you got about a third of the way there, you'd be dead from the radiation levels."
Planetarium exhibits like these, then, "need a big caveat at the front that the area portrayed is so hostile, you physically couldn't be there," he added. "It's because of the Hubble and various other telescopes we have that we can give you a seat as if you were there."
'A Lot of Education'
There is, in fact, "a lot of education you could do as to the structure of the universe," Czysz pointed out.
For instance, "when you look out and see all this magic on the dome, that's only 5 percent of the universe," he noted. "Ninety-five percent exists in a state that you can neither see nor measure — dark energy and dark matter."
Such educational possibilities are surely at least part of the reason that cities around the globe continue to invest such vast sums in their planetariums.
'Keep Kids Looking to the Future'
"I think that anything that is different from the regular classroom paper-and-pencil activities can help inspire students to want to learn more," Blumer asserted.
"I know as a child I watched many farfetched shows and dreamt about what it would be like to actually be able to do those things; now some of those 'way out there' ideas are actually happening," she pointed out.
"I think we need to keep kids looking to the future and developing and using things that seem way out there, way above their heads," Blumer concluded. "This is important, because they will be the future, and we need to keep them wanting to do more than what we have done."