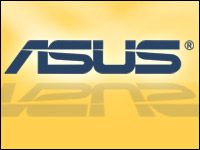 With a sexy splash page — a young woman in short shorts waving her arms before a TV screen — PrimeSense and hardware maker Asus are inviting consumers to connect with kinetics through Wavi Xtion, a three-dimensional technology that couples cameras, motion sensors, and televisions with personal computers.
It also reminds several tech pundits of Microsoft's Kinect, which is no wonder — PrimeSense developed Kinect's 3D motion-sensing technology.
On sale this February and poised for introduction at the 2011 International Consumer Electronics Show (CES) this week, Wavi Xtion promises to conquer the living room with Immersive Natural Interaction technology, said PrimeSense CEO Inon Beracha.
Xtion PRO — a developer platform — additionally promises consumers and software developers the ability "to easily create their own gesture-based applications and software," Beracha added.
Technology experts see both promise and peril.
The Consumer Challenge
"This is a fascinating development that brings physical motion control to general purpose computing, instead of just video games," Kamin Whitehouse, assistant professor of computer science at the University of Virginia, told TechNewsWorld.
"This technology brings us one step closer to the vision of pervasive computing," he said, "where the interface to computer systems is completely invisible."
Pervasive computing, however, may not be an easy sell, suggested Simon Buckingham, CEO of Appitalism, a platform-agnostic online app superstore and community.
"It's tough for a company to go out with an unknown product that's competing with so many well-known products to 'own' the living room, from Wii to Apple to Google to Xbox," Buckingham told TechNewsWorld. "In the consumer space, I think the chances of success for Wavi Xtion are slender. It would stand a much better chance as an enterprise app, particularly in the retail and commercial security market."
Waving Hello
Two-component Wavi Xtion represents "controller-free interaction," from browsing multimedia content to accessing the Internet and social networks. No keyboards, no mice, no remotes, no handheld gadgets, but simply natural human motion to surf the Web, for instance.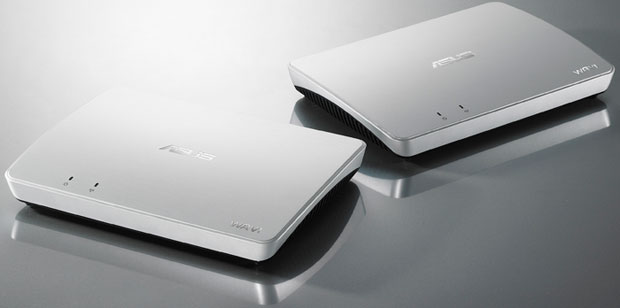 Wavi Xtion
"Wavi is a two-box set — one box connects to a PC and the other box connects to a TV," PrimeSense marketing vice president Adi Berenson told TechNewsWorld. "Wavi can transmit high-definition videos and PC screens via ultrawide band wireless links from the PC to TV. Wavi also transports USB traffic via an 802.11n network back to the PC, and can stream movies and photos in uncompressed full HD 1080p."
Xtion is connected to Wavi and operates natural user interface applications and games on the PC, Berenson explained. "Xtion is the ASUS 3D sensor base on PrimeSense's RD 1.081 design and PS 1080 chip. It is compliant with OpenNI (Natural Interface) consumer standards."
Xtion Pro, while also compliant with OpenNI standards, "targets commercial, research, and developers market segments," he added.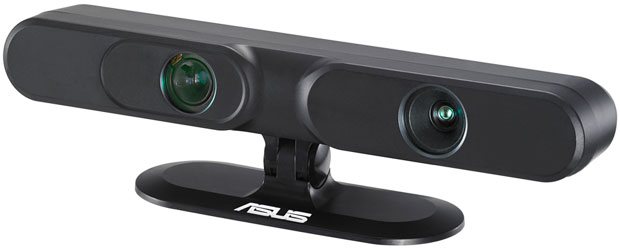 Xtion Pro
A content CD includes middleware, games and apps that support gesture and motion sensing, and a wireless USB port "differentiates Wavi from other wireless transmission solutions," Berenson said.
The port allows users to control a PC in one room via a television in another room.
"Users can control their PC, which is shown on their TV simultaneously, without being in front of their PC," Berenson explained. "Wavi Xtion basically extends the PC experience to the living room without having to move the PC to the living room."
For Living or Cavorting
All the talk about more action in the living room concerns Appitalism's Buckingham for both personal and business reasons.
"At some point, the living room is for living, and not an endless number of gadgets and props," Buckingham pointed out.
More importantly, competition for that living room space "will make it hard for Wavi Xtion to develop a pedigree," he said. "They're going to have to spend a lot of money on marketing, and the device isn't going to be cheap to sell," a conundrum in the consumer electronics space.
If Wavi Xtion doesn't retail for US$149.00 or lower, "they won't move any volume," Buckingham said. "If it isn't $99.99 or cheaper, it won't drive much impulse and toy shopping."
Beyond Consumers
Aside from consumer electronics, digital signage, medical devices and other enterprise-style applications are both expected and welcome in the market life of Wavi Xtion, PrimeSense's Berenson explained.
That's welcome news to Simon Buckingham.
"After I reviewed Wavi Xtion, given its camera and motion-sensing technologies, one area I thought was very fertile was security," Buckingham noted. "I would expect to see a product like this thrive in a loss-prevention arena rather than as a consumer application, and at a higher price — say $249 or above."
Wavi Xtion is also promising "where a keyboard and mouse can be inconvenient," said UVa's Whitehouse — "for mechanics, hair dressers, and doctors — people who don't work at a desk but still need to use computers. New possibilities also arise when this technology is combined with speech recognition and ambient displays such as wall projections."