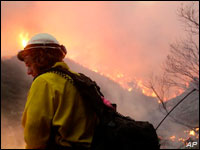 The fires raging across western U.S. states this summer, at times plowing through residences and other structures, might have gotten you thinking: "What if?"
That is, what if one of my buildings were destroyed in the 44-square mile California Pondorosa fire in August, which leveled more than 80 structures? Or what if my community were in the path of the Trinity Ridge or Mustang Complex fires that charged through hundreds of square miles in Idaho last month?
For a bunch of Southern Californians, the question "What if?" became: "What to do?" after a swath of their chaparral-covered community was engulfed in three-days of wind-driven flames and destruction in 1993.
After that fire — one of the most destructive in Los Angeles history — residents from the affected unincorporated community known as "Topanga," a rural suburb of Los Angeles, got to talking among themselves, and one theme kept coming up.
During the fire, many believed they were not getting enough accurate information — and it turned out the media were as clueless as the residents about what was taking place.
Basically, everyone was in the dark during those destructive days and nights.
One group of residents was so up-in-arms about it, that they decided a lack of communications was something that would never happen again. If the wildland-urban interface they lived in could be expected to throw a curveball at them periodically in the form of an inevitable wildfire, the community would use a combination of technology and sheer bloody-mindedness to at least know where the fire line was — and more.
It was the inception of the community-funded Topanga Emergency Operations Center, or EOC, a non-government organization (NGO) that occupies a classroom-sized trailer perched on a shady hillside, crammed full of technology and radio gear.
The Building
In the early days, the group learned to approach the project realistically, logistics chief John Stevens told TechNewsWorld.
"If you have all volunteer people and limited funding, then plan around that," he advised. "All EOCs have similar functions — just with differences in scale, staffing and equipment. We wanted to mimic a bigger EOC, but it seemed near impossible, so we just made everything smaller and simpler, and then grew as we learned."
Their current EOC grew from more primitive beginnings.
"At first, we crammed five different functions into a tiny 10×30-foot trailer — ham radio room, four telephone phone banks, logistics management, EOC manager, planning and information collating, plus a table in the middle for meetings and discussions," Stevens recalled. "It was tight but workable."
Emergency Technologies
The technology the Topanga group used then — and still relies upon — is principally radio-driven. This is in order to be able to stand in for failed existing hard-wired infrastructure that can become destroyed. Utility poles burn.
"How will people in the affected area call for help when our standard means of communications fail?" asked Bryce Anderson, who jointly runs one of the EOC teams.
Radio is the answer, he told TechNewsWorld.
"Even in this age of cellphones, instant messaging, text messages and email, when disasters strikes and the normal infrastructure is disrupted, amateur radio is often the only way people communicate," Anderson noted.
Radio is absolutely essential, according to Sergeant Tui Wright of the Los Angeles Sheriff's Department Malibu Lost Hills Station, which covers Topanga and is responsible for evacuations during incidents.
"It is extremely important for a community, as well as useful, to use Ham radio to communicate in a disaster — and communicate with law and emergency services too," Wright told TechNewsWorld.
Ham, or amateur, radio bands are chunks of government-managed radio frequencies allocated for licensed individuals to use. Public safety officials can communicate too.
The NGO EOC's Function
The nonprofit Topanga EOC acts as a clearing house for incoming and outgoing information like evacuation zones, road and school closures, and shelter locations. It also collects eyewitness accounts from radio operators roving at a safe, non-evacuated distance, and then shares that information with stake-holder parties like community groups and local government services such as public safety, including fire departments.
The group recently developed its own networked computer incident-management system for the EOC. The system ties into the Web for public bulletin-boarding, and it can be accessed remotely in the event the EOC building should have to be evacuated.
More Tech Aids
Through the Topanga Coalition for Emergency Preparedness, or T-CEP, the nonprofit body that runs the EOC, it has also set up a neighborhood network of resident groups organized by streets. They use no-license-required multiple channel walkie-talkie-like Family Radio Service (FRS) radios, which can be bought cheaply at box retailers.
These consumer-oriented FRS radios are commonly used for camping and other family-type noncommercial communications, but the Topanga group uses them to provide communications at a street or micro-local level in the event the existing infrastructure should become overwhelmed or fail for any reason.
Some of the group's other approaches include neighborhood phone trees and phone banks for use when infrastructure is functioning; a radio scanner for monitoring official agencies' radio traffic; satellite dish and big-screen TV for media reports and TV helicopter broadcasts; other two-way radio equipment like GMRS (General Mobile Radio Service), which is an upped-FRS used by other volunteer groups that share the building; and mobile Internet.
Generators kick in automatically when power fails, and hilltops are used for radio repeaters.
"Disasters are a given. In our area, our state, it's not if, but when," said Los AngelesSheriff's Department's Sergeant Wright. "There are many different ways to prepare — communications is one of those ways.
"Imagine if you desperately needed to call for help but had suddenly lost your voice," continued Anderson. "How will our government agencies know where to send resources when there is no 9-1-1?"
The Topanga group believes it has gone some way toward getting the answer.