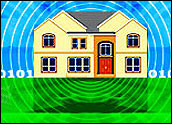 More and more digital devices are being put in homes as a result of consumers doing such things as moving audio files from PCs to home entertainment systems. In response to the upswing in demand for networked services in the home, the HomePlug Powerline Alliance is moving to make the technology to connect those devices more readily available.
While power line technology has been around for a few years now, the Powerline Alliance seems to have tapped into renewed interest in the technology — encouraging the use of local area networks that run over electrical lines rather than traditional media like Ethernet cabling, wireless connections or telephone lines.
At least one analyst predicts sales of power line home networks will grow fourfold by 2008. Electric lines have appealing attributes, such as power outlets in just about every location where someone would want to connect a home network device, so they are convenient. Also, equipment vendors, such as Belkin, Conexant Systems, and Linksys all offer products that are simple to install.
Still, while the technology appears alluring, it has garnered only limited acceptance. Market research firm Parks Associates estimates that HomePlug systems accounted for 3 percent of the home network installations in 2003, trailing Ethernet with 59 percent, wireless LANs with 31 percent and telephone wiring with 7 percent.
The Signal Is Fading
A number of factors have hindered power line acceptance, starting with skepticism about the technology. Few individuals associate power lines with network equipment and for good reason: Electrical lines are an unlikely medium to deliver the consistent, uninterrupted connectivity needed with network applications.
A channel between any two outlets in a home represents a complicated transmission line where sending and receiving points offer varying degrees of quality. In fact, data transmissions arrive at end points in a scattershot manner, with some experiencing relatively little power loss, while the power signal dissipates dramatically with other connections. Determining how to compensate for those differences can be difficult.
Additionally, line contention can change quickly. This could happen as a homeowner plugs a new device into a power line, or when devices plugged into a network have scheduled time spikes in power consumption, such as when night lights are turned on and off.
To overcome these obstacles, suppliers devised a networking scheme that features a combination of sophisticated forward error correction, data interleaving, error detection and automatic repeat request features that help to ensure that data transmissions will not be disrupted.
"HomePlug vendors have now shipped more than 1 million systems worldwide, so the technology has proven that it is viable," Jim Reeber director of marketing at Arkados, told TechNewsWorld.
Living in the WLAN Shadow
Yet few are aware that the supporters reached such a significant milestone. "HomePlug products haven't generated much publicity among consumers or gained much shelf space among retailers," Kurt Scherf, an industry analyst with Park Associates, said. "That's because wireless LANs have been so successful."
Pricing has been one area where wireless LANs have had an advantage. "Wireless LANs have been quite popular because vendors have been able to ramp up sales volume production and dramatically reduce unit pricing," Greg Collins, a senior director at market research firm Dell'Oro Group, told TechNewsWorld. WLAN connections are priced as low as $50 per connection while HomePlug systems are now in the $150 per link range. There are signs of progress with the power line systems.
Broadband network service providers are beginning to support HomePlug transmissions. In February, EarthLink invested US$500,000 in Ambient, a power-line communications components maker, and is working with the company and Con Edison.
EarthLink also has a partnership with Progress Energy for testing broadband power-line Internet services, which costs about $40 per month, in 500 homes in Raleigh, North Carolina. In May, Intellon and Comcast began a trial for home networking users.
Filling the Need for Speed
In addition, HomePlug vendors have been working on standards so power lines support higher speed transmissions from 14 Mbps to 120 Mbps. In September 2003, the HomePlug Powerline Alliance began work on HomePlug AV, a technology designed for digital multimedia home networks.
The specification, which is in the final stages of design and expected to be completed by the end of summer, is based upon the work of a handful of suppliers: Panasonic's power line AV communications technology, Intellon's power line home networking technology and DS2's power line access technology.
In addition, Sharp provided both quality of service functions, which ensures that bandwidth is available for specific applications, and AV management technology, while Conexant contributed its advanced signal processing capabilities to improve overall system performance and robustness.
The higher speed might help the technology gain a market niche in backbone networks. "A number of users have a home office located on one floor and an entertainment system stationed on another, and therefore need a high-speed connection between them," Park Associates' Scherf told TechNewsWorld. "In certain cases, wireless connections run into problems as they try to cover both locations."
Its use as a backbone technology is one reason why Park Associates' Scherf predicts sales of power line home networks will grow from 2.7 million in 2004 to 9.6 million in 2008. "While Ethernet and wireless LANs will gain the bulk of the interest from home network users, power line systems will gain enough interest to emerge as at least another viable option," he said.