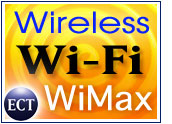 Novatel Wireless has introduced a new line of devices that essentially creates a mobile WiFi cloud for users. The technology, dubbed "MiFi" will offer users not only broadband-level connectivity but also a rich applications environment for both businesses and consumers.
MiFi, unlike traditional router offerings that need an external broadband modem, creates a cloud of high-speed connectivity that can be shared by multiple users and WiFi devices, such as laptops, cameras, gaming devices and multimedia players, said Novatel.
The device also acts as an intelligent open platform able to host advanced software applications.
"This is an intelligent mobile hotspot. It's not just a dumb pipe for connectivity. It's something that is really the all-in-one device you'll want to have if you're leading a mobile lifestyle on the go," said Mike Kelly, a Novatel Wireless spokesperson.
WiFi Where You Are
A pocket-sized device, MiFi uses current third-generation (3G) cellular networks — EVDO and Rev-A in the U.S. and HSPA in Europe — to create a WiFi cloud that extends roughly 30 feet. Within that range, the device will provide connectivity for any WiFi-enabled device.
"Devices such as a portable gaming device, your iPhone, your laptop, your Kindle, anything of that nature, and a great deal of the WiFi-enabled devices coming to market, that's what this is designed to power," Kelly told TechNewsWorld.
Novatel has not released details on upload or download speeds; however, according to Kelly, users can expect to receive broadband speeds similar to those available via a PC card or USB modem.
"There's no software download, no third-party applications to install on your computer. It's going to create a cloud, and your computer will recognize it, just like if you were using a wireless router at home and your notebook. It will identify the network and ask you if you want to join that network. Same thing with MiFi, except it's portable," he explained.
As carriers continue to roll out fourth generation (4G) networks such as WiMAX and LTE that require different radio technology than current WiFi networks, Kelly said that Novatel would release MiFi devices in the future enabled to take advantage of these faster networks.
Payment models will be based on data connectivity rates from different carriers. However, Kelly said Novatel anticipates that data rates will shrink.
MiFi products will be available in the first quarter of 2009 through Novatel Wireless' global tier-one operator customers and at retail stores.
Life in a Cloud
Mobile hotspots solutions like Novatel's offer a valuable service to consumer and enterprise users, Christopher Collins, a Yankee Group analyst, told TechNewsWorld.
"Free hotspots, where they are available, and WiMax, also where it is available, do offer an alternative, but there are enough areas where those alternatives will be inconsistent or unavailable that Novatel and others can still provide significant value," he explained.
"Cellular data cards likewise are a compelling alternative, but only for laptop PCs — not for a much wider range of connected devices, including cameras, gaming devices, Chumbys and so on," he continued.
Questions surrounding the payment model are the most critical, according to Collins.
"I am assuming that most pricing decisions will be made by mobile operators, and they have a history of pricing services to protect and sustain high ARPUs [average revenue per user], rather than to drive adoption and use. But we have seen more willingness on behalf of the operators to experiment with different approaches. I'm thinking, for example, of how Sprint bundles the cost of network access into the price of a book bought from Amazon via the Kindle reader. So I am optimistic that there will be some similar creativity employed when pricing mobile hotspot solutions," he concluded.