If you haven't yet taken the iOS 8 plunge, you may not know what you're missing. True, iOS 8 has the familiar iOS 7 look and feel, but it's chock full of both new and improved features and functionality. And it's free.
However, if you're toting an iPhone that's getting a little long in the tooth, you might want to consider trading up, as iOS 8 is an option only for owners of the iPhone 4s and later models.
Some of the new features evoke a sigh of relief — we've been waiting for these, Apple. Others are downright pleasantly surprising and altogether cool.
Here's your guide to the most useful and welcome iOS 8 changes to the Camera and Photo Apps, the new Family Sharing feature and more.
Camera App
The iPhone is the world's most popular camera, and the built-in Camera App is one of the most important apps around. In iOS 8, Apple has introduced several new features, including the ability to adjust exposure separately from the focal point. How does it work?
All you have to do is tap your screen to tell the Camera where to focus. A box pops up with a slider next to it. Slide your finger most anywhere up or down and the exposure will adjust accordingly. Most people who use it will likely attempt to make an image brighter — or make it darker to better evoke a mood.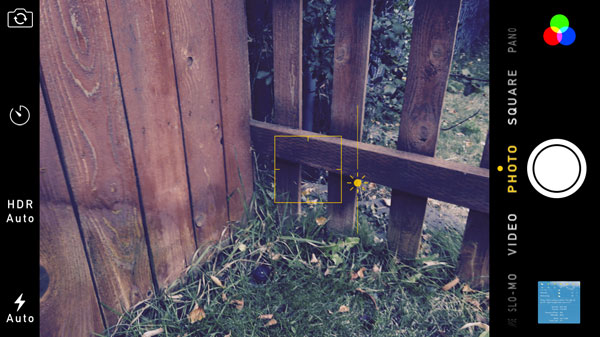 The Camera app now lets you set a focus point independent of the sliding exposure control, which can be handy for takings shots of areas with both light and shadow.
The new Timer mode lets you set a timer for 3 or 10 seconds, after which it delivers a burst of 10 photos — handy for making sure you capture everyone with their eyes open.
For time-lapse fans, the new Time-Lapse mode lets you take a series of photos to create a time-lapse video. For best results, you'll want to prop or stand your iPhone up into a stable position and let it run — for instance, to capture a river, a tide, or sunrise or sunset. Unfortunately, you can't set the number of photos or interval — it's automatic, for better or worse.
Photos App
In iOS 8, your Camera Roll is gone forever, and all your photos are in the Photos app, which gives you two basic views: Photos as a timeline broken up into Years; or Collections based on smaller date ranges. Moments is the zoomed-in view of a particular Collection, which is usually a few days or a particular location.
You can search your photo library by date, location, or album name. If you tap the search icon, Photos will deliver a set of recent searches as well as other results it thinks are important to you.
The Albums section is where you'll likely find what you're looking for most often. The most likely place is the Recently Added album, which does what you would expect — stores your most recent photos and videos.
Other albums break out your shots by type, like Panoramas, Videos, Slo-mo, Bursts, Hidden and Recently Deleted. So what's "Hidden?" This new feature "hides" photos from your Moments, Collections and Years sections and moves them to the Hidden album.
Sure, they aren't exactly hidden, but if you're trying to show a bunch of photos to a friend, you can get the personal photos out of the way. (Would be nice if it were password- or Touch ID- protected, but it's not.) To hide an image, tap and hold on its thumbnail view, then tap the "Hide" popup. Reverse the procedure to reveal the photo again.
What about Recently Deleted? This stores photos that you "delete" in the new Recently Deleted photos album for 30 days. To make them really go away, you can delete them again for real from this folder — or you can choose to "recover" them as well.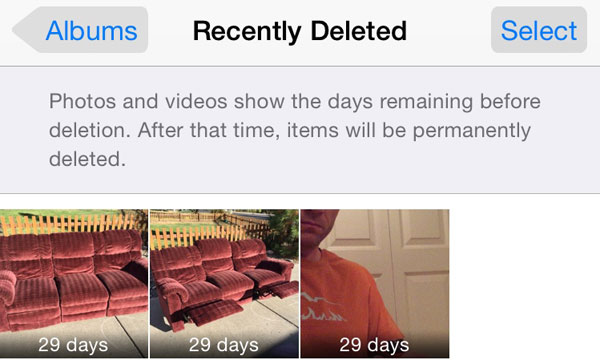 If you want to delete a photo immediately, you'll need to delete it twice in iOS 8, because the new Recently Deleted album will hold it for you for 30 days before truly trashing it.
With iOS 8, you now have more built-in controls for editing photos, including easy adjustments for Light, Color and B&W. Of course, you still can apply a handful of built-in filters — and while Apple doesn't include many, app developers can make their own filters and editing tools that can be accessed from the Photos app.
That's right, Apple has opened up its default experience to user customization through app developer add-ons.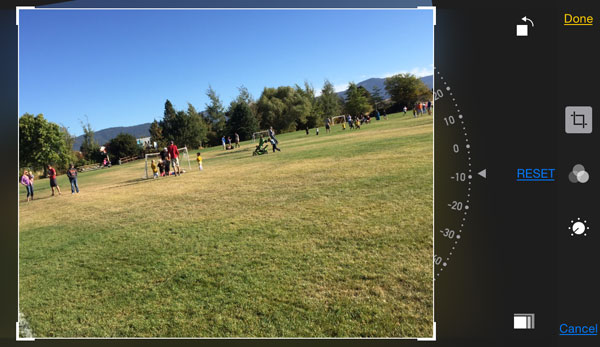 The Photos app in iOS 8 has new editing functions, including the ability to crop a photo to fix an off-kilter horizon.
Understanding iCloud and syncing warrants an entire article all on its own, but basically with your photos, all of your edits sync across your devices and are non-destructive, meaning you can reject and re-edit a photo on your iPad Air when you realize you make a mistake.
iOS 8 Family Sharing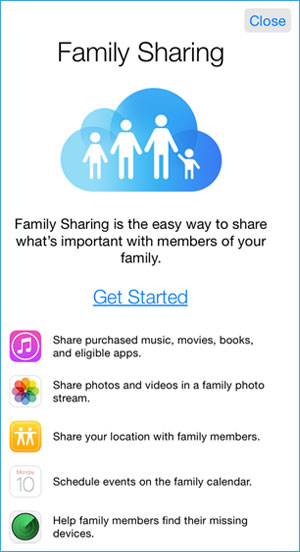 Apple's new Family Sharing makes it easy for families to share Apple-purchased content from a single credit card, in addition to sharing a special family photo album and calendar.
One of the coolest new features for families in iOS 8 is the new Family Sharing. It lets up to six people in your family share each other's App Store, iBooks and iTunes purchases without the need to share accounts or type in a password for a family member's iTunes or App Store account.
All the family members pay for purchases with one credit card, and adults can get requests from children to purchase content — pushed right to the parent's device. Parents can approve the purchase or review the item requested to figure out what the heck it is.
If your kid buys a hot new song that you secretly like too, you get access to it. Same goes for everyone else in the group — the content appears automatically in everyone's Purchased tab in iTunes, iBooks or the App Store. What if you have an App that you don't want anyone else to access? You can hide individual items through iTunes on a Mac or PC (not on an iPhone or iPad, unfortunately).
With Family Sharing activated, members can contribute to a family photo album, too, which is created as a new Album in Photos. So cool — it's a good way transfer great photos among two parents — and heck, it might even make a teenager feel more connected to the family.
Family Sharing also generates a "Family" shared calendar, which no doubt will help a family keep track of sporting events, practice schedules, work trips, and who knows what all else a family might be trying to manage these days.
You can use Reminders to send Family members location reminders and event notices — or even constantly share your location with everyone on a map, automatically. You can, of course, temporarily stop sharing your location by disabling the Share My Location switch in iCloud settings.
To activate Family Sharing, head over to your iCloud settings. The family organizer sets up the credit card and invites up to five others to join. The only con? Families with more than six members will have to exclude some kids — likely because Apple is afraid of groups getting together to share content who aren't truly families.
Smarter Share Sheets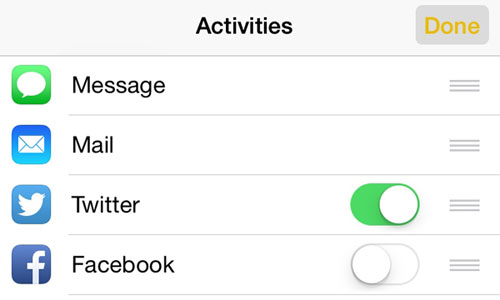 For heavy social media sharers, you can customize your list of apps for sharing content.
When you tap the little document's up arrow icon to share something in an app, iOS gives you a share sheet that lists your options. It includes things like AirDrop — but more importantly, it gives you a list of options you can scroll through.
If you only use Messages, Mail and a couple of social media services like Twitter or Facebook, these options are simple enough. If you have all sorts of social media apps you like to share through, though, this list can get a little unwieldy.
In iOS 8, when you tap the More button, you get a list of Activities that you can move up and down in order of your importance — or toggle off entirely.