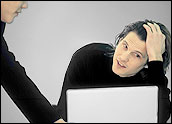 This is the second installment in a multi-part series on building a Web site for your small business. Part 1 looks at essential elements of a business Web site. This article offers site design guidelines.
With all the free online Web building and design tools, a lot of time-strapped business owners might think that with a few strategic drags and drops into templates, they're good to go. While that might get you online in a matter of hours, if you haven't paid close attention to a few design basics, that site could do more damage than not having a Web site at all.
In the online world, first impressions are everything, Frank Loeffler, director of product marketing for Intuit Web sites in Menlo Park, Calif., told TechNewsWorld. "If you don't have a professional appearance online, visitors will leave in a split second."
It's always a good idea to get some professional help, he added, especially if you're particularly design challenged. But don't panic — tapping into some design expertise to get you started doesn't have to cost you thousands of dollars. Intuit's Web sites service for example can be had for just under US$600.
"That's about the same cost as your annual iPhone service," Loeffler said. "An investment like that can make a huge difference in the success of your site."
For those who have a better handle on working with online templates and tools, they can always do the job themselves and simply pay a nominal hosting fee (less than $5 a month).
Whether you hire design expertise or go the do-it-yourself route, it's important to get a solid understanding of the design basics that make a Web site work. Here are some key points to consider when designing your site.
Know Yourself
Before you rush headlong into picking out your templates, fonts and colors, it's important to first take a step back and look at what your site is all about. Is it simply an information piece, a sales channel or a marketing tool? Are users coming to you for services, advice or product news? Is your site focused on attracting new customers, retaining the ones you have, or engaging in dialogs with the general public?
"You need to know what your own goals, as well as what end users would expect or need from your site," Darrell Courriveau, design director for q30 design in Toronto, Canada told TechNewsWorld. "It all has to do with the appropriateness of the site you're designing and not just about posting great pictures and logo."
It also doesn't hurt to scout out competitors' sites so you can get a feel for what you like — or don't.
The more groundwork you can do, the less chance you will have to pay for updates and changes later in the process. Make sure you have established your content and general architecture of your site. It's always a good idea to put together a wireframe to get a sense of page content and linkages. (This can even be done in PowerPoint).
"Mapping out your site content will get you 80 percent there," said Loeffler. "It makes it much faster for a designer to go ahead and start figuring out what needs to get done."
"It pays to lock down your content before you start designing," said Sam Wong, solutions engineer with Adobe Systems in Toronto, Canada. "A lot of time in the design process is wasted if you've forgotten to include all your content and keep adding things as you go."
Consistency Is Key
Make sure your content has a consistent look and feel throughout. While you might think mixing colors and fonts or even writing styles presents a more dynamic picture, the cardinal rule for any professional looking site is to stick to branding guidelines.
"Stick to a reasonable pallet of two to four colors," said Corriveau. "If you use too many for the graphics or the text, it looks like a mish-mash."
Most people tend to overload their landing pages with content and pictures. Given that visitors are prone to scanning, especially when they're in navigation mode, it's important to keep your Web pages looking clean and that your copy short and to the point.
Corriveau pointed out that Web content is not all about great pictures and logos. "You need to strike a good balance between making your site graphically unique and stripping out what doesn't need to be there. Legibility is key."
"When it comes to copy, you don't want to overwhelm visitors to your site," said Loeffler. "Save the extra copy for those who want to navigate to a deeper level. Your home page is really just a navigation mechanism so it needs to be concise and relevant."
Nothing frustrates a visitor more than having to wade through multiple links to get to where they want to be. Make sure your links are visible and easy to find at all times. If space allows, have them on the side and across the top of each page, just to make things easier.
Know Your Limits
While your content needs to be kept fresh and relevant, small-business owners don't always have the time to constantly refresh content. When planing your content, keep in mind how many hours you can devote to updates. If most of your time is spent managing day-to-day business issues, make sure the bulk of your site's content can stand the test of time.
If you simply can't manage updates on your own, you can tap into design resources for a reasonable hourly rate (as long as you're not looking at a major redesign). It's worth the investment in the long run.
The importance of having calls to action on every page cannot be emphasized enough. All too often people neglect to put the "contact us" and "buy" icons on every page, and think that having it on the home page will suffice. Make sure your company e-mail, phone number and contact links are included on every page and easy to find — preferably at the top and the bottom. The same goes for the "buy" or "shopping cart" button.
Test and Learn
No site is ever static. Resign yourself to the fact that some things will work with your audience, and others won't, and that there is always room for improvement. Make sure you keep testing responses to your Web content — and don't be afraid to make changes when you have to. There are plenty of ways to keep up to speed on your site's effectiveness, from posting questionnaires and basic reporting tools, to online analytics services that can break down visitor behavior to a more granular level.
Last but not least, take time to read up on some tips of the trade. There is a lot of easy-to-follow, step-by-step design advice to be had for free from the likes of Microsoft, Intuit and resources such as Website Design Basics, among others.
How to Build a Small-Business Web Site, Part 1: Nuts and Bolts
How to Build a Small-Business Web Site, Part 3: Advanced Design
How to Build a Small-Business Web Site, Part 4: Web 2.0 Tools
How to Build a Small-Business Web Site, Part 5: Outsource or DIY?
How to Build a Small-Business Web Site, Part 6: Marketing for Success
How to Build a Small-Business Web Site, Part 7: Analyze to Optimize
How to Build a Small-Business Web Site, Part 8: Content Management Simplified
How to Build a Small-Business Web Site, Part 9: Security and Transaction Processing
How to Build a Small-Business Web Site, Part 10: Minding Your Privacy Ps and Qs
How to Build a Small-Business Web Site, Part 11: Roping In That Rascally ROI