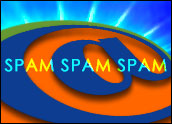 Due to a concerted effort by ISPs and email providers, new laws and education, we've seen a gradual drop in the amount of spam that appears in our email in-boxes.
However, some gets through. Here's a look at the steps you can take to minimize this disruptive, time-wasting intrusion.
Step 1: Filter Email at the Client
Set your email client spam filters by looking for the Settings area within your email program or Web interface. It's often behind a cogwheel-like icon. Ensure that any spam-blocking settings you find there are switched to "On."
Some email providers don't give you a switch and will automatically filter for spam.
You can tell if your email is already being filtered at the client by looking for a spam folder within your folder list. It will be labeled "Spam," "Junk" or "Bulk Mail."
Tip: When spam filtering is turned on, you should periodically check the Spam folder for miscategorized messages. Some non-spam messages can turn up. Look for instructions within the email client on how to tag those messages as "not spam."
Step 2: Create Email Rules
Create a rule in your email program or Web interface for niggling emails that burrow their way past the filter that you set up in the earlier step.
Look for the Filter option within the Settings options and choose "Create a new filter" or similar. Enter the "from name," subject, or any words that you would like tripped.
Then choose what action you'd like to take place, like skipping the in-box.
Step 3: Filter Email at the Mail Server
Browse to your mail server's website-based interface, if one exists, and check for any additional spam filters.
If your mail is being handled by a software client like Microsoft Outlook rather than a Web client like Gmail, it's possible that the mail server has additional filters that can be brought into play.
For example, say you have a GoDaddy account, with GoDaddy providing the mail server along with domain registration, and you providing the client — like Microsoft Outlook — on the local machine. GoDaddy would have given you an account ID and you'd have set up a password when you signed up.
Tip: If there are "Spam" and "Not Spam" buttons adjacent to incoming emails, use them. It helps the mail server provider identify messages that you don't want to receive.
Step 4: Report Abuse
Look for abuse-report email links on legitimate websites that are sending you spam. For example, if you're receiving copious amounts of Linkedin messages, report them to [email protected].
Legitimate websites include methods for reporting trouble, though you generally have to dig down to find them. Avoid websites that promise to remove your email address from spam lists, though.
Step 5: Unsubscribe Email
Click on the Unsubscribe link embedded in most junk email if you trust the sender. Be extremely wary of Unsubscribe or Remove links, because they have been used by unscrupulous marketers to identify live email addresses.
Your clicking on his Unsubscribe link lets a dodgy spammer know he's reached a live person, as does replying with the word "Remove." Consequently, obvious junk mail should be ignored rather than unsubscribed to.
Step 6: Block Images
Select the Block Images setting within your email client, if available, to prevent spammers from receiving confirmation that you've opened the email.
The in-email images — or just a hard-to-see pixel — can be traced back to your email address — thus identifying a "live one."
Tip: Never click on links within messages from people you don't know or trust. Better still, ignore and delete emails from people you don't know or trust. If it looks suspicious, it is.
Garbage-filled emails from people you know are spam and can hold Trojan horses. Delete the message, then email the person and ask if they wanted to reach you. They can send the message again if it was legitimate.
Be aware of the Nigerian 419 Advance Fee email scam — 419 being a Nigerian fraud criminal code. Any email offers of rewards in exchange for advance fees are out to get you.
Want to Ask a Tech Question?
Is there a piece of tech you'd like to know how to operate properly? Is there a gadget that's got you confounded? Please send your tech questions to me, and I'll try to answer as many as possible in this column.
And use the Talkback feature below to add your comments!