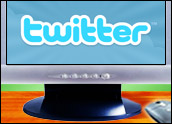 News, in particular, breaking news and events, is now easily obtained through Twitter feeds.
Here's how to go about building a news feed, and how to follow breaking news events through this new medium.
Part 1: Create a Twitter List
Step 1: Access Twitter with a Web browser and sign in to your account. Then click on the cogwheel icon in the top right corner of the default Profile page.
Step 2: Click on Lists and then Create List. Give the list a name like "News" and select a privacy setting.
Step 3: Search for a local news-oriented outlet in the search text box that will appear.
Tip: Search by title for local newspapers; by call-sign for local TV and radio stations. Search by name for public safety agencies. For example, in the Los Angeles area, a search for newspaper "Los Angeles Times," TV station "ABC7," radio station "KFWB" or "Los Angeles Fire Department" will get you started with a solid batch of Twitter news sources.
Step 4: Select the drop-down arrow within the head icon and choose Add or Remove from Lists.
The news list that you created will appear.
Add the news outlet's name from the previous step to the news list by clicking on the check box next to the list label, ignoring the Create a List button. Then click on the "X."
Step 5: Continue adding news sources by following the preceding two steps.
Tip: Try to obtain at least one local news source for each classic news medium — for example, one newspaper, one local TV station and so on.
Step 6: Add national outlets like ABC, NBC, CNN, The Weather Channel, and so on by following the preceding search steps again.
Tip: Look for the word "Breaking," Notify" or "News Desk" within the user name result for the most newsy sources. For example, "@TWC Breaking" for The Weather Channel.
You can perform a search for specific news reporters that you may be familiar with too, because some have their own Twitter feeds.
Strong Twitter news sources can also include government agencies, utilities and cities.
For example @FEMA, the Federal Emergency Management Agency, can provide news during disasters; utilities like @SCE have Twitter feeds that provide power outage news; cities like New York's @NotifyNYC account can tweet road closures. States have emergency news sources too — @CALEMA is an example.
If you need ideas, use the Discover tab within Twitter and then Browse Categories to see a sample of news sources.
Tip: You can add tech news to your feed @TechNewsWorld.
Part 2: Read the News
Step 1: View the news source list that you created by clicking on the Me tab on the Twitter home page. Then choose the label for the list that you made. The news-oriented tweets will be readable in a chronological timeline.
Step 2: Perform a power search for specific news events by entering a topic or event description in the Twitter search box.
Tip: Precede any Twitter topic or event description search that you perform with a hashtag and no spaces. News sources use hashtags to mark keywords, like #wind, #wildfire or #blizzard, for example.
Step 3: Look for trending hashtags in the lower left-hand panel on the Twitter home page. You'll see major events trend as the events unfurl.
Then click on the link displayed to follow trending tweets. They will show in a chronological timeline.
Step 4: Browse to the app store for your respective mobile device, like Apple's iTunes or Android's Google Play, to download a free Twitter app for your device. Then log in and follow breaking news on your mobile device too.
Want to Ask a Tech Question?
Is there a piece of tech you'd like to know how to operate properly? Is there a gadget that's got you confounded? Please send your tech questions to me, and I'll try to answer as many as possible in this column.
And use the Talkback feature below to add your comments!