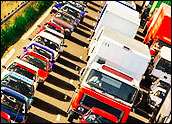 Unless you're driving a tricked-out late-model BMW or Mini, you're unlikely to have Internet-based media streaming options built into your vehicle.
However, there are ways to replicate that Internet media experience — just without the integrated controls.
The basic premise is to use your smartphone with its cellular Internet connectivity to obtain the media and then use the smartphone's outputs to get that audio into your existing car stereo system.
Step 1: Make the Connection
Wired Connections
Identify the connection options: If your vehicle's radio head unit has a 3.5mm "auxiliary" jack, you can use a cable with a 3.5mm plug on each end to connect between the "headphone out" jack on the smartphone and the head unit. Purchase the cable at a consumer electronics store. Likewise, if the head unit has a USB jack, use the USB cable that came with your smartphone to make the connection. In both cases, set the "input" on the vehicle head-unit controls to "aux."
Wireless Connections
Look for a Bluetooth connection. This stereo technology for Bluetooth is called "A2DP." Often, there will be a Bluetooth logo on the vehicle head-unit fascia panel that will give you a clue that your smartphone can be paired with the vehicle using short-range wireless connectivity. Look for the "pairing" mode on the phone and head unit. You may have to check the vehicle's documentation because it is often counterintuitive.
Use a Bluetooth portable in-car speakerphone. Reader Mike Florio uses a Motorola T505 device that he has paired with a smartphone via Bluetooth. He set the T505 to output its Bluetooth-obtained audio on an FM frequency, to which he can then tune the car radio. Belkin makes devices that offer similar functionality — they plug into the phone's speaker jack, though. Be aware that in cities with a crowded FM band, results can be mixed. Florio has had success with the Motorola device throughout the inter-mountain West, and I've used the Belkin product successfully in rural France.
Cassette Adapter
If your vehicle has neither an auxiliary jack nor A2DP Bluetooth functionality, you can use a cassette adapter — a cassette-like module with a 3.5mm jack and cable that you can plug into the phone's speaker jack. Be advised that in my experience with these adapters, which is extensive, the Sony variant is the only one I found that wasn't audibly muddy.
Step 2: Getting the Media
Live Radio
Perform a search in the market or store for your smartphone device. Look for the term "Internet Radio."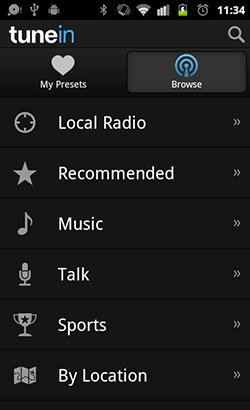 Install a live Internet radio app on the smartphone. Florio and I have been using TuneIn Radio for Android, which lets you browse and listen to 50,000 radio stations from seven continents. Browse by location or genre. TuneIn also lets you create app presets in advance with its desktop website — just set up an account there.
Pick your stations. Florio listens to Reno, Nev.-based local radio while driving through Utah and Wyoming, and I've been listening to my hometown's LBC (London Broadcasting) talk shows, including its grim traffic and weather updates while sitting it out in traffic in balmy Los Angeles.
My commutes last winter were surreal. I listened to typical callers, often cockneys, calling in to complain about this and that, interspersed with reports of ice-snarled transportation failures in London, while I drove on the Pacific Coast Highway in stop-and-go traffic, watching the pelicans over the picture-postcard ocean.
Personal Radio
Install a personalized radio service app on the smartphone. Pandora Internet radio and Slacker Radio are two that I've used on Android. Both work by prompting you to enter the name of a favored artist or song, and the service creates a personal station that plays like music. They both output to the car using the same techniques described in the previous step.
Podcasts
Download podcasts to time-shift live TV or radio programming that you'll miss while sitting in traffic. Podcast software like iOS' native application and Google's Listen on the Android platform allow you to time-shift some live radio shows and television audio.
For example, audio from NBC's and CBS' evening news shows is available in podcasts that you can preprogram into a podcast-playing app like Listen. Simply perform a search within Listen for the shows you miss out on, and set the app to download podcasts automatically.
In Listen, choose "download new audio" and set the refresh rate. Then check for the audio you need within the app before starting your commute, and output it to the car stereo system using the techniques previously described.
Warning: Don't let the operation of the smartphone distract you from driving. Many jurisdictions have laws pertaining to the use of these devices and their location within the vehicle.
Want to Ask a Tech Question?
Is there a piece of tech you'd like to know how to operate properly? Is there a gadget that's got you confounded?
Please send your tech questions to me, and I'll try to answer as many as possible in this column.
And use the Talkback feature below to add your comments!