The stuttering and freezing that can occur when you're streaming video are indicative of issues related to bandwidth. Commercial hosted solutions like Netflix and Hulu can suffer from degraded performance.
Rather than simply calling your Internet Service Provider (ISP) and requesting a faster, more expensive pipe, there are some steps you can take first to optimize your existing environment for video streaming.
Step 1 Turn off your modem, router, computer and add-ons, wait a minute, and then turn them all back on starting with the modem, then the router and then the other gear.
Allow the equipment to stabilize by leaving it for a minute or so.
Step 2
Run a speed test by browsing to a speed test website on your principal computer to get an overall picture of your downstream speed. Look for at least 500 kbps, which is half a megabit. Netflix recommends this as a minimum. Hulu recommends a full megabit.
If you see speeds much less than that promised by your ISP and paid for by you, call and complain. A service rep can run tests with you and remotely reset your modem. The company can also send a tech to check cables in your building and replace bad modems, and so on.
Step 3
Verify that any wireless router antennas are straight up vertically and not enclosed in confined spaces like TV cabinets. WiFi operates at 2.4 GHz, which is a microwave, works best line-of-sight, and is notoriously poor at penetrating objects like walls.
Try to get the wireless router in the same room as the other equipment. Use Cat 5 or Cat 6 cable if you need to. Run the cable from the back of the router into your PC or streaming device. Cable will handle streams better than a wireless signal; use it wherever possible when streaming.
Step 4
Force the streaming service to cache video by pressing the "Pause" button and letting the buffer fill if you still have problems. Leave the show paused for a few minutes and try the stream again.
Step 5
Turn off any other computers on the same network and try the stream again. Don't forget cellphones and tablets on the network. Shut down any unnecessary software on the computer you are streaming to. Turn off any Internet telephony. Try the stream again.
Step 6
Switch the streaming service's resolution setting to the "Standard Definition," or the lowest resolution that you can find if you still have problems. The lower resolution image will require less room in the pipe.
You'll often find the setting adjacent to the controls like "Play" and "Volume" in the lower part of the screen on a Web-based streaming site. Hulu's resolution can be set down as low as "288p." Then look for a "Save as Default" setting and try watching the show again.
A Few Tips
Be aware that Netflix streams use about 1 GB of bandwidth per hour in standard definition, and double that in high definition. Check whether your ISP has introduced data caps if you still experience degraded streaming.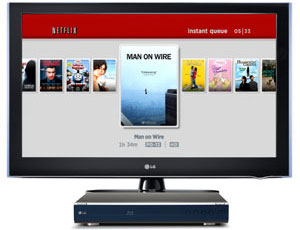 Streaming video on Netflix
Your ISP can be slowing your speeds down because it thinks you've used up too much bandwidth. This is common if you are using a mobile broadband connection — the kind that's provided through a USB stick.
Currently Sprint is the only major mobile operator in the U.S. that doesn't cap. In many places, the data caps are euphemistically called "Fair Use Policies." T-Mobile doesn't cap, but does have "Fair Use" limits.
If you're unable to get a straight answer from your ISP, software is available that you can download to see if your bandwidth is being "shaped" and the ISP is delaying or losing your packets on purpose.
Want to Ask a Tech Question?
Is there a piece of tech you'd like to know how to operate properly? Is there a gadget that's got you confounded?
Please send your tech questions to me, and I'll try to answer as many as possible in this column.
And use the Talkback feature below to add your comments!