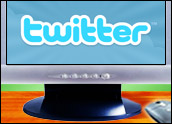 Twitter has been rolling out some new features in recent months. Two of the most useful are crisis alerts and the ability to preschedule your tweets for marketing purposes.
Here's how to use these handy new tools.
Crisis Alerts
Local government emergency managers have been trying for years to figure out ways to alert members of the public about crises and incidents, like natural disasters, that could affect them.
Limited success has been achieved with auto-dialer implementation, which is dependent on phone lines' capacity.
Twitter thinks it may have the best answer, though, and has recently made live a system whereby Twitter users can sign up for Twitter-published government warnings that will be sent directly to individuals' Twitter accounts.
Twitter's crisis alert system was successfully trialed during the Washington, DC, naval yard shooting in September.
Step 1: Sign into your Twitter account by browsing to the Twitter website and entering your login details.
Step 2: Browse to the Twitter Alerts Web page and click on the Participating Organizations link. Browse the list of official groups.
Tip: Groups include national agencies like U.S. Department of Homeland Security, Federal Emergency Management Agency and local public safety agencies such as fire and police departments.
Twitter guidelines prohibit the use of its Alerts service for fundraising and general organization updates.
Step 3: Choose the appropriate agency and click on the blue Activate Alerts from that agency button.
Step 4: Confirm the phone number to which you would like to receive Twitter-originating SMS text alert messages. The default number is the number you signed up to Twitter with. Then press Take me to Twitter on the confirmation page.
Tip: Click on Change my Phone Number if you need to. Enter a mobile phone number if you haven't already.
Now, when an incident unfurls you'll receive an SMS text. If you are using one of the mobile Twitter apps, you'll receive a pushed app notification and an orange bell icon adjacent to the Tweet in the client.
Tip: To turn off alerts as SMS notifications, browse to the Twitter Settings Web page and click on the Mobile tab. Then turn off Twitter alerts.
Prescheduling Tweets
Rather than tweeting a bunch of texts all in one go, you might sometimes want to schedule a tweet for later on. This is social engagement spread over time, and it's particularly useful when managing marketing campaigns.
You don't have to participate in paid Twitter advertising campaigns to take advantage of scheduling.
Step 1: Sign into your Twitter account by browsing to the Twitter Advertising website and entering your login details. The Twitter ads website is distinct from the Twitter site but it uses the same User ID and password.
Step 2: Click on the Get Started button and choose your country and time zone. Ignore any Account Ineligible on-screen message or campaign buttons such as New Promoted Tweets Campaign.
Step 3: Click on the Compose New Tweet icon at the top right corner of the page.
Step 4: Compose the tweet, including text and any image or location. Then select the Scheduling tab. Click on the Custom radio button and choose the date and time that you'd like to schedule. Then click on the blue Tweet button.
Step 5: View the scheduled tweet along with its scheduled time by clicking on View All Tweets on the confirmation page.
At the chosen time, your tweet will post automatically.
Tip: To be successful at marketing with Twitter, you need to engage with your followers. Be careful using scheduling — you can appear inattentive if followers tweet and you fail to respond.
Want to Ask a Tech Question?
Is there a piece of tech you'd like to know how to operate properly? Is there a gadget that's got you confounded? Please send your tech questions to me, and I'll try to answer as many as possible in this column.
And use the Talkback feature below to add your comments!