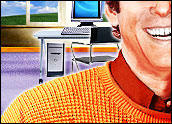 It's not ink cartridges, printers and faxes anymore. The cloud and smart devices have changed the home office landscape — for the better. There are now numerous free apps for instant messaging, video conferencing and cheap calls; plus it's easier than ever to keep coworking teams on the same page.
Use this article to show your boss how simple it is to structure the technology — or chuck in the job, and become an entrepreneur on the cheap.
Step 1: Make the Case
Get your arguments in place. Working from home lets businesses reduce real estate costs, and it conceivably improves worker productivity by reducing tiring commute time.
Workers get a better home-life mix. Spousal discussions can involve proposed increased sharing of domestic chores.
Step 2: Get the Hardware
Purchase a tablet and smartphone. These tools will be your bread and butter and offer communications and processing portability that will let you work in a quiet corner.
It doesn't matter what ecosystem you choose. Apple's iOS or Google's Android offer much the same functionality, so try them both and decide based on look and feel and general preference — or for compatibility, choose the one coworkers use.
Step 3: Collaborate
Pick out some collaborative tools. No man is an island, as poet John Donne said a few hundred years ago. And whether you're setting up a home office to become an entrepreneur or a telecommuter, you will need to collaborate.
The easiest way to approach this is to choose the mobile versions of the tools already being used at your office. Google Drive for iOS and Android is a cloud-based productivity suite that includes applications compatible with Microsoft Word, Excel and other Office products.
It's a good place to start, because your tablet edition can seamlessly integrate with desktop versions back at the office.
Step 4: Communicate
Try WhatsApp Messenger for SMS text-like instant messages. This app is storming the small business world as it lets users bypass telcos and message unlimited texts, pictures and notes with colleagues over WiFi and 3G. It's free for the first year and then US$0.99 a year after that.
Skype VoIP video telephony, and Google Voice's U.S. and Canada free calling are good additions to the mix.
Step 5: Meet
Rent office space by the hour or day when you need face-to-face time with colleagues or clients. You'll save over renting your own dedicated office space.
Tip: Choose a plan that gets you a half day every week from a workspace provider like Regus, or similar, for discipline. Workspace providers can provide addresses, hot desking and drop-in working options too.
Cheaper meeting solutions include WiFi-enabled chains like Starbucks.
Step 6: Networks
Make sure the Internet services you use at home and when out and about aren't slowing you down. This is not an area for skimping. Internet is everything with today's home office. If you see "caching" messages when streaming video, or the hourglass symbol on your machines, upgrade your Internet services.
Tip: While you're at it, junk any slow or aging legacy laptops or PCs you may still be using, and replace them with premium, brand-new hardware. Do the same with older WiFi routers. Aging hardware can slow down cloud and other Internet services.
Step 7: Productivity Add-ons
Establish your productivity add-ons: TinyScan Pro is a $1.99 iOS app for tablet and phone that turns your device into a PDF document scanner. Similar apps are available for Android.
PrinterShare spurts documents from your tablet to printer — if you still have one of those peculiar antiques.
Patrick Nelson has been working from home off and on for 25 years.