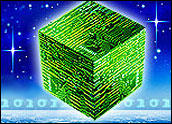 Researchers at HP Labs have proven the existence of the "memristor," a component of electrical circuits that could lead to computer systems with memories that never forget, the company announced Wednesday.
The memristor — short for "memory resistor" — was previously only theorized to be the fourth fundamental circuit element in electrical engineering. In the April 30 edition of the journal Nature, however, HP researchers presented both a mathematical model and a physical example of one.
Consuming far less power than current systems, computers based on the memristor would not need to be booted up and could associate information in a way much the way the human brain does.
'Significant Implications'
"To find something new and yet so fundamental in the mature field of electrical engineering is a big surprise, and one that has significant implications for the future of computer science," said R. Stanley Williams, the lead researcher on the work from HP Labs' Information and Quantum Systems Lab.
"By providing a mathematical model for the physics of a memristor, HP Labs has made it possible for engineers to develop integrated-circuit designs that could dramatically improve the performance and energy efficiency of PCs and data centers," Williams added.
Decades-Old Theory
The existence of the memristor was actually first proposed back in the early 1970s by Leon Chua, a distinguished faculty member in the University of California at Berkeley's electrical engineering and computer sciences department.
Chua argued that the memristor joined the resistor, capacitor and inductor as the fourth fundamental circuit element, and that it had properties that could not be duplicated by any combination of the other three elements.
One application for HP's new research could be the development of a new kind of computer memory that would supplement and eventually replace today's commonly used dynamic random access memory (DRAM), HP said.
Computers that use DRAM can't retain information when they lose power, and must go through a slow, energy-consuming boot-up process to retrieve data from a magnetic disk required to run the system. Memristor-based computers, on the other hand, would be able to "remember" their information after losing power and would save both power and time by not requiring the boot-up process.
Cloud Potential
Such capabilities could be particularly significant as cloud computing becomes more prevalent, HP noted, since the memory and storage systems used by current cloud infrastructures require significant power to store, retrieve and protect the information of millions of Web users worldwide.
"I'm terrifically interested — this is a very exciting piece of news," Susan Eustis, president of WinterGreen Research, told TechNewsWorld. "I think it's very clear the reason cloud computing works so well is because it works using memory."
In Google searches, for example, "responses come up really fast, and that has to be because they're coming out of memory," Eustis explained. "It's not going out to a database, accessing the storage and then coming back."
Memristor technology "would be of enormous use, but not just for cloud computing," she added. "It will impact all of computing."
'Cool Stuff'
Another potential result of the technology might be computer systems that remember and associate events much the way humans recognize patterns. Facial recognition technology could improve as a consequence, enabling new advances in biometric security, HP noted. In fact, appliances might even be able to learn from their experiences, it said.
"This is cool stuff," Roger Kay, president of Endpoint Technologies, told TechNewsWorld.
"When companies announce scientific breakthroughs, it's always interesting," Kay noted. "Of course, there's a wide variation in the time line to commercialization. This one sounds like it will take a decade in any event — too long for anyone planning this year's revenue."
Small Chance, Long Wait
Indeed, "all this stuff is great, but we have to remember that we already have billions upon billions upon billions invested in the silicon manufacturing technologies we have in place today," Jim McGregor, research director and principal analyst with In-Stat, told TechNewsWorld. "Even if this new technology can be produced on the technologies we have today, it probably has a 25 percent chance — or less — of actually coming to market."
If it does make it to market, it will be at least 15 or 20 years before that happens, McGregor cautioned.
Quest for 'Perfect Memory'
The industry is always in search of "perfect memory," McGregor added. There are other materials that can be used to maintain circuit memory, such as ferroelectrics, but "there are always trade-offs in performance, manufacturability and density," he explained.
Ferroelectrics, for instance — which were considered back at the same time Flash first was — were found to be corrosive to other materials on the same line, he noted.
The "perfect" memory being sought will provide speed, density, nonvolatility and low price — a challenge that will become more pressing and complex "in that the majority of applications in terms of units are now also going to be focused on combining memory with logic," he said.
Density, Power, Performance
There's a continued push to put more and more on ever-smaller pieces of silicon in all the cell phones and other consumer electronics devices that ship each year, McGregor said. "The big challenge is that we have to say, how is this going to help us achieve increased density, lower power and increased performance in a single package?"
Of course, HP has been "working on this stuff a long time, and has a good history for R and D," McGregor pointed out.
"What's really amazing about this is that HP is primarily a systems company now, and yet is still heavily investing in the R and D of silicon technologies," he concluded. "They're looking at alternative or revolutionary ideas in what might be possible from a physics or chemistry standpoint, and saying, where can this take our products? That's a good sign for the industry."