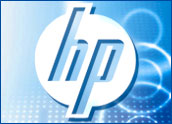 HP launched a new virtual storage disk array targeted for midsized businesses Tuesday. The HP StorageWorks 4400 Enterprise Virtual Array (EVA4400) provides medium-sized organization users with a combination of features normally found in systems for enterprise-class businesses.
The EVA4400 is a solution for businesses with a need to reduce the costs and complexity of implementing a storage-area network (SAN) in order to manage large amounts of data, HP said.
"Other SAN environments typically create significant management overhead, but the powerfully simple EVA4400 is the better solution for midsize businesses since it is easier to configure and automates storage provisioning to improve capacity utilization," said Rick Steffens, vice president and general manager of SAN StorageWorks at HP.
Virtual File Cabinet
Targeted at organizations with up to 1,000 employees, the EVA4400 provides users with a virtualized storage and server environment in which servers and storage can be managed together. The system's integrated management tools make managing the EVA4400 easier and faster to deploy and decreases overall management costs, HP said.
The EVA4400 replaces the EVA4100 and offers users newer hardware with dual-redundant controllers and up to eight drives, much larger maximum storage capacity — up to 96 terabytes — and support for 8 GB Fibre Channel SAN architecture, said Natalya Yezhkova, an IDC analyst.
"It's not like a really new new product, but it has nice enhancements compared to its predecessor. It seems HP is getting focused on improving the end user experience and trying to attract less sophisticated users with limited storage expertise," she told TechNewsWorld.
Businesses might also benefit from the EVA4400's 99.999 percent uptime as well as support for a broad range of operating systems. It also offers proven integration with business applications including Microsoft Exchange Server, Microsoft SQL Server, Oracle JD Edwards EnterpriseOne, Oracle E-Business Suite, VMware ESX Server and HP PolyServe Scalable NAS.
Take Note, Small Biz
Smaller businesses may also find the EVA4400 interesting, depending on their storage requirements, Yezhkova noted.
"There are some small businesses — businesses with less than 100 employees — that handle large amounts of data and need advanced storage management and data protection mechanisms," she explained.
Priced at US$15,000 the currently available EVA4400 has a "pretty attractive" price point, according to Yezhkova, but the company needs to provide more education for customers on the differences between its offerings.
"HP has a rich portfolio of storage platforms that makes it tricky to position and educate customers and end users on benefits of each product. Given HP's reliance on its huge channel partner network, it needs to take extra work communicating all these positioning nuances to its channel partners," Yezhkova pointed out.