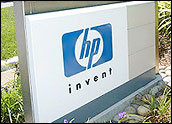 HP kicked off the summer with a slew of new and revamped products at its Connecting Your World conference in Berlin Tuesday.
Among the 50 products that will soon make their way onto store shelves is HP's TouchSmart all-in-one desktop PC, an ultra-thin laptop from Voodoo PC, a one-billion color monitor and 16 other notebook computers.
The sheer number of products HP unwrapped Tuesday is unusual in the PC industry but points to the convergence between consumer and enterprise-class systems, said Steve Kleynhans, an analyst at Gartner.
"I can't remember any player in the PC industry launching such a broad portfolio of products in a single event in recent memory. I think two factors were at play here. One is the blurring of the lines between corporate and consumer systems. PCs and other devices increasingly span all aspects of a user's digital life, and as such it makes sense to recognize this in products and the way they are marketed," he told TechNewsWorld.
Apple's Worldwide Developers Conference being held this week in San Francisco is another factor, Kleynhans added.
"In order to get heard above the din generated by that, you have to make a lot of noise. A large, all-encompassing product launch certainly helps," he noted.
The Power of Voodoo
The Voodoo Envy 133 ultra-portable notebook is 0.7-inches thick and comes in at less than 3.4 pounds. It offers users a 13.3-inch light-emitting-diode display and backlit keyboard, along with an integrated webcam and a multiple gesture touchpad with circular gesture and pinch options.
Wrapped in a carbon fiber casing, the Envy also has an external eSATA optical drive and an high-definition multimedia interface port. The system offers nearly 3.5 hours of battery life.
"The Envy is an a-letter product in this changing ultra-portable category, where it was all about weight and, to a certain degree, sacrificing performance, small screen and keyboard size. But now with the MacBook Air, X300 [from Lenovo] and the unit from Toshiba, the R500, we're seeing larger screen sizes in the category, which opens the door for a bigger audience," Richard Shim, an IDC analyst, told TechNewsWorld.
The Envy's launch is an effort by HP to position the brand, well-known among hardcore gamers for its high-end desktop PCs, into a more mainstream arena with a system starting at US$2,099. It joins systems from Apple, Lenovo and Toshiba in the ultra-slim, ultra-portable notebook category.
There's no doubt HP is trying to make Voodoo more mainstream, Shim said. "This is a strong brand in gaming, and HP is trying to build upon a very solid brand. One of those efforts is obviously to take an elite brand fewer folks could relate to and making it available to a wider audience."
HP's TouchSmart all-in-one PC is a good complement to Envy, according to Shim, because it continues the thin-is-in trend for PCs. The system presented Tuesday benefits from an extreme makeover that left it slimmer than the previous version and with an improved touchscreen interface.
The system features HP's TouchSmart IQ500 series PC software that the company said was designed specifically for touch. It gives users the ability to finger tap or swipe across the high-resolution, 22-inch screen to quickly access information, flip through, crop or edit photos, browse a tiled music library and other multimedia activities without a mouse or keyboard.
"The new TouchSmart simplifies the all-in-one design, making it a better fit for the space constrained environments (like a kitchen) that it is designed for. The first product was a good first step, and this product seems to refine the design nicely," said Kleynhans.
I See Colors
Also noteworthy in this product launch is HP's Dream Color display. The 30-bit, LED backlit LCD display offers a range of more than 1 billion colors — 64 times the colors available on a mainstream LCD, with more vibrant reds, blues and greens and blacks that are four times darker, HP said. It's the first monitor to come from a two-year collaboration with DreamWorks Animation.
Aimed at animators, game developers, post-production film and video types, product designer and those in the graphic art fields, the DreamColor starts at US$3,499.
"The new DreamColor monitor also looks very interesting. Although it will only appeal to a relatively small market, it reinforces HPs quality and engineering messages as well as the company's focus on the digital content market," Kleynhans explained.
The 16 remaining notebooks — six consumer and 10 business-class — feature Intel Centrino 2 processors with Intel HD Boost, Intel's latest Mobile 45 Chipset family for discrete graphics.
The six consumer frameless notebooks with flush-glass screens boast the liquid metallic HP Imprint 2 surface design with color-matched keyboards and touchpads. Magic Chrome controls that appear at the touch of a finger provide quick access to multimedia features including movies, photos, music and TV.
Three new offerings join the value-minded Compaq notebook line: the CQ40, CQ45 and CQ50, which starts at $499. Pricing for the other two models varies by region.
Starting at $699 up to $1,299, HP's Pavilion 14.1-inch dv4t, the 15.4-inch dv5t and 17-inch dv7t, are focused on the multimedia notebook user.
At the high is the new HP Elitebook PC. Weighing in at just less than 5 pounds and with up to 15 hours of battery life, it offers a 14.1-inch widescreen display, shock resistant hard drive and spill-proof keyboard. Starting at $1,179, users can opt for a 2-megapixel webcam with business card reader and hard drive support for RAID 0 or RAID 1.
"It's a pretty big launch. It is recognition by HP that they understand what the consumer wants, and that's a lot of choice. You have a complete breadth of products from entry-level stuff to innovative design and technology on the high-end. The other thing consumers want are refreshes. It's becoming very similar to the cell phone market, where you see new designs all the time," Shim pointed out.